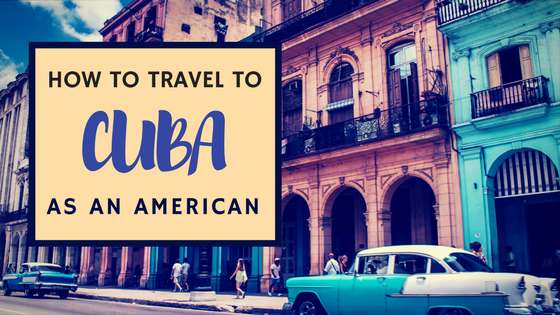 You Can Still Travel To Cuba as an American in 2017. Here's How.
Cuba has become a hugely popular destination amongst American tourists over the past several years. The charm of Havana, delicious food and drinks, pristine beaches- and, of course, the good ol' Cuban cigars. What can be better than this?
Being only 90 miles from the Florida Keyes, most Americans can reach Cuba within a relatively short flight. Thus, you probably won't be experiencing jet lag during your tropical vacation.
However, with president Trump's latest Cuba policy, it may not be as simple to take a well-needed vay-cay to Cuba than before.
Contrarily to the popular myth, Americans are still able to travel to Cuba for leisure.
Here is how to do it, and what you should know before taking that next Cuba trip:
What you CAN'T do now in Cuba
Purchase From Certain Companies and Stay at Certain Hotels
If you are planning an upcoming Cuba trip, know that there are 180 companies/hotels where you cannot carry out direct transactions with. Some of these are located in historical Havana, which is a widely popular tourist area.
Click here to see the full list of hotels and companies that are prohibited for Americans.
Solo Travel
Unfortunately, for solo travelers, it is now restricted to travel alone to Cuba. The only type of individual travel allowed in Cuba today is if you are traveling for educational, humanitarian, or religious purposes, visiting family, or journalism.
Unless you booked your trip before June 16, when Trump signed the new Cuba policy, individual travel is not allowed in Cuba.
How To Visit Cuba as an American
As a solo traveler: 
If you must go to Cuba solo, you have two options:
Travel with an organized tour group. So if you are a solo traveler, don't immediately check Cuba off your bucket list- hey, going on an organized tour can be a great way to see the country and meet other travelers. This includes Caribbean cruises.
2. Travel for "educational purposes". This falls under the "support for the Cuban people" act. Your trip must be filled with cultural learning experiences to qualify. Easy enough, as you probably would have done this regardless of the travel restrictions.
You must interact with native Cubans. You can take informative classes, stay at privately owned bed and breakfasts, eat at privately owned restaurants, and purchase from individual sellers or small business owners. This is truly win-win- you are supporting the peaceful relationship amongst Cubans and Americans while becoming enriched by the culture of the island.
Traveling with 1+ people
It's pretty easy to travel to Cuba if you are going with one or more people. Just be careful to check out the restrictions list before you go, as it is susceptible to change.
I'd recommend booking your accommodation through AirBnB. Cuba has hundreds of affordable AirBnB's to choose from, and you will be supporting the relationship between Cubans and Americans. Plus, you will have the opportunity to live more "like a local", in a traditional home, in a traditional Cuban neighborhood. Sounds pretty great, right?
Related: Why Millennials are Choosing Air BnBs Over Hotels
Of course, you can still opt for hotels. Just be careful to check the list of restrictions BEFORE booking.
Click here to get $20 off your first AirBnB stay!
More Things To Know
Back in September, a travel warning was issued against Cuba after some sort of a  sonic attack was conducted against U.S. embassy members. They reported hearing loss, headaches, and mild concussions.
There were no reported deaths. This attack allegedly occurred in two hotels where American diplomats were staying.
In short, if you are not working in Cuban as an American diplomat, you're probably going to be fine on your Cuba trip.
Conclusion
Contrarily to the popular belief, Cuba is still fairly easy to travel to for Americans. In short, you will just have to do a little more research before you book that trip. With some research and good planning, you should be good to go on your next trip to Cuba.
=========================================================================
Disclaimer: The AirBnB link provided is affiliated, where I will recieve credit if you book via this link. If you are looking to book an AirBnB, please book through this link to help support this webpage.