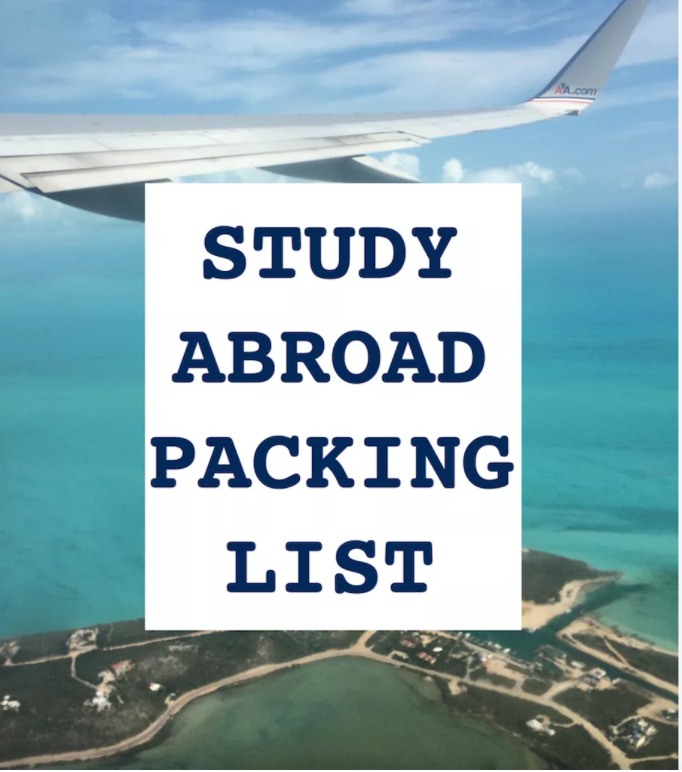 Study Abroad Packing List II A College Student's Guide to Packing for Abroad
Amidst the locura of preparing to go abroad, it can be easy to forget to pack some of the most essential items. Here is a list of basic must-have items to bring for a semester overseas. Remember- the less you bring, the easier your life will be when you arrive to your temporary home!
*If you are like me, you are probably going to do some shopping while you're abroad. Make sure you have extra room in your suitcase to bring new items back with you!
Electronics:
Chargers (Laptop, Cellphone, Camera, etc.)
Laptop
Cellphone
Camera
Memory cards
External Hard drive
Earbuds/Headphones
Clothes~ Tops:
Casual shirts/T-shirts (5)
Long-sleeved Shirts (3-4)
Dress Shirts (3)
Winter Coat (1)
Sweaters (3)
Light-weight Jackets (2)
Rain Jacket (1)
Clothes~ Bottoms/Dresses:
Jeans (4)
Leggings (5)
Dress skirt (1)
Going-out Dresses (2)
Little Black Dress
Casual Dresses (3)
Sweat Pants (3)
Shoes:
Sneakers (1) (I chose white Pumas that will go with everything!)
Flats (1) (Click here to purchase foldable travel-friendly flats)
Boots/Booties (2-3)
Rain-shoes (1)
Sandals (2, depending on climate)
Heels (1)
Intimates:
Sleep Shirts (2)
Pajama Pants (1)
Slippers (1)
Bras (3)
 Sports Bra (1)
Bandau (1)
Underwear (14)
Socks (14)
Swimsuit (1)
Swimsuit Cover-up (1)
Accessories:
Scarf (1)
Hat/Earmuffs (2)
Gloves (1)
Earrings (5 pairs)
Necklaces (5)
Watch (1)
Sunglasses (2-3)
Backpack (1)
Purse (I recommend a small cross-body bag)
Wallet
Carry-on bag/luggage (1)
Hair Ties
Bobby Pins
Headbands/Wraps
Personal Care
*Make sure to pack anything over 3 0z in your check-in luggage
Razors
Toothpaste
Toothbrush
Steripods/Toothbrush Covers (purchase steripods here)
 Shampoo & Conditioner (3 oz)
Leave-in Conditioner
Deodorant
Body Wash (3 0z)
Lotion
Hand Sanitizer
Face Cleanser (3 0z)
Facial Wipes
Make-Up
Perfume (1 rollerball perfume)
Self-Tanner
Nail Clipper
Nail Files
Tweezers
Brow Shaping Scissors
Epilator
Medical:
Prescriptions
Advil
Feminine Products
 Bandages
Neosporin
Chapstick
 Air-born
Benadryl
Travel Essentials:
STUDENT VISA!!!
Passport
ID/Drivers License
Student ID
$200 in the country's currency
Debit + Credit Card
 Sleeping Mask
Travel Blanket/Pillow
Sketchbook/Journal