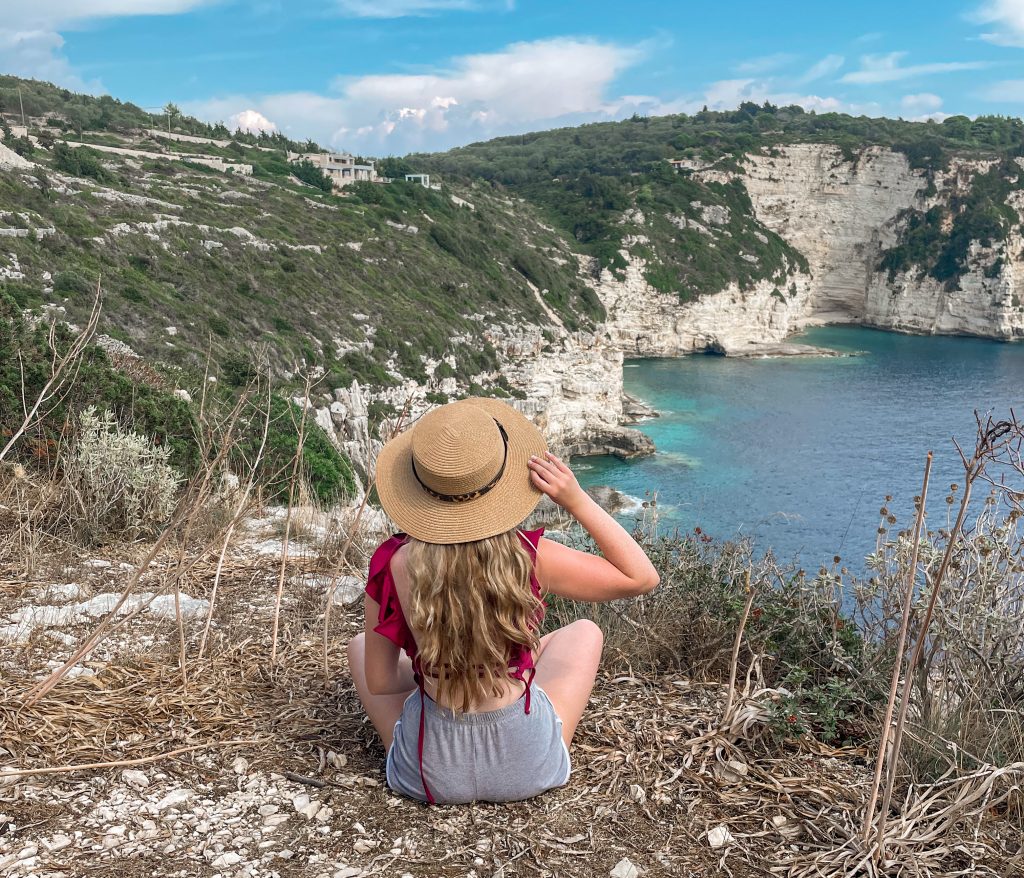 3 Days in Paradise: Paxos Travel Guide
The Greek Island of Paxos is an Ionian island that is less famous than many of the other Greek destinations like Santorini or Mykonos, but it offers some of the best views and experiences that you can find in Greece. In this guide, I recommend the best ways to spend a limited amount of time to experience all that the small, but beautiful island has to offer.
Best time to visit Paxos
We visited Paxos in mid-September and it was absolutely perfect. The weather was around 80 degrees every day, and there were few tourists around. We heard from several locals that due to its small size, Paxos can get cramped with tourists during the summer months, so if possible, I suggest going during shoulder season in either September or May.
Getting to Paxos
Getting to Paxos is not as straightforward as you might expect, since there is no airport on the island. Luckily, the lack of air traffic around the island helps the small island keep lots of its charm, and it is still rather easy to get to the island. You can catch a ferry from the island of Corfu or from Igoumenitsa, Parga, or Perdika on the Greek mainland. You can also take an independent boat to Paxos, but will have to reserve space to anchor, especially during high season.
We traveled from Corfu, which seems to be the easiest way to get to Paxos. You can fly to Corfu directly most times of the year (if you travel in a time where you can't find a direct flight, then it is only an hour flight from Athens), and the port to Paxos is a short taxi ride or walk from the Corfu airport (about 10-15 minutes driving and 20-30 walking). We booked our ferry in person since we had spent a few weeks in Corfu before we went to Paxos, but ferry tickets can also be purchased online or via email or phone. There are three ferries from Corfu to Paxos:
Each of these ferries cost 20 euros per passenger and expect to arrive at Paxos between one and three hours after departure. We rode the Ilida 2 and the ride was comfortable and lasted just over 2 hours. I recommend riding on the outside of the ferry to catch breathtaking views of the island of Corfu and the Greek mainland!
Day 1: Arrival in Paxos and Exploring Gaios and the Surrounding Area
The ferry will arrive in Paxos' New Port in Gaios, the town which I recommend as your base for the three days you are on the island. You can arrange to have a taxi or hotel shuttle pick you up at this port, or you can opt to walk to the town of Gaios, which is only an easy 15-minute walk away.
If you opt to walk, make sure to continue straight when you get off the ferry, which will allow you to follow a flat path on the waterfront to the town. When we departed the ferry, we accidentally took the path to the right which headed up a steep hill that made transporting our luggage much more difficult. If you don't have much luggage or want a challenge, then there is a fantastic view from the top of the first steep hill, which made us decide our wrong turn was for the best, despite the added difficulty. From the top of the hill, you can see the entirety of the Gaios Old Port and much of the Old Town, where you can already pick up the peaceful and cozy vibes of the sea and the sleepy town surrounding it.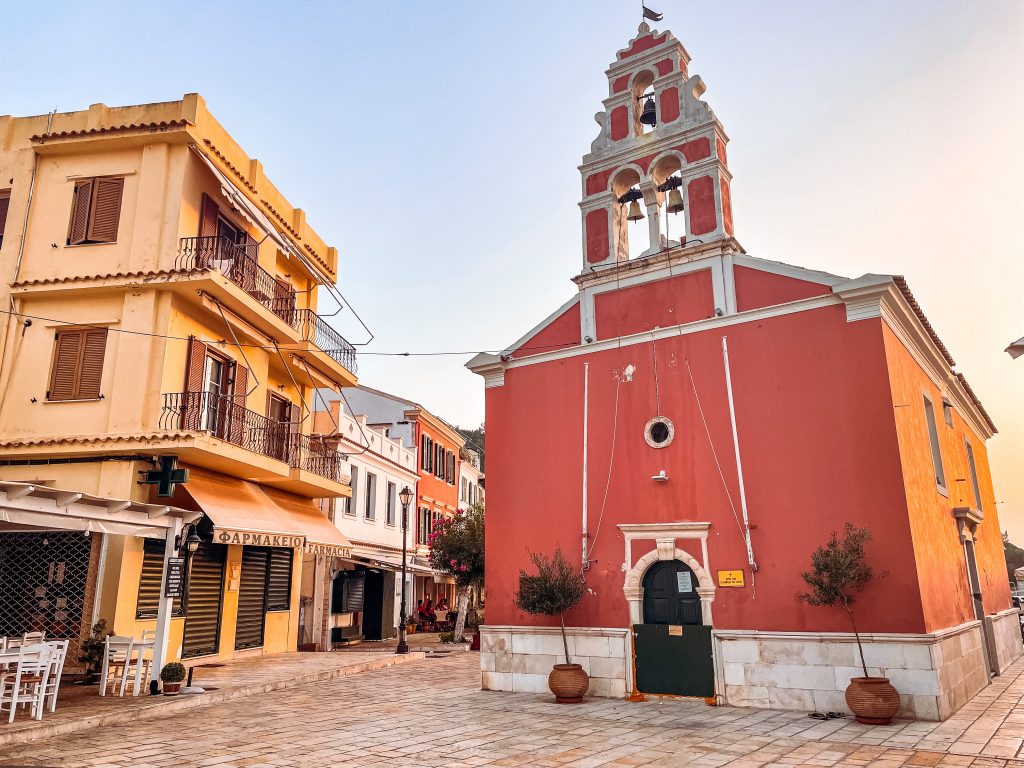 Whichever way you decide to get to Gaios, I recommend dropping off your luggage and immediately heading back out to explore all that the town and its surrounding area offers! There is lots to do in the town, whether it's exploring the back alleyways, visiting the various quaint stores throughout, or just walking on the waterfront and taking in the beautiful sights and refreshing sea breeze. If you love cats like me, then you are in luck, because Gaios has so many cats wandering the streets! There were so many moments where I just stopped to look at all of the cute cats and kittens sunbathing or walking down the street.
There are also plenty of delicious food options in Gaios for all kinds of cravings, if you work up an appetite while exploring. Fanalino Restaurant Bar is a great option for a full meal in the main square of Gaios town, where you can watch the ships come into port and the locals go about their daily lives. If you prefer something a bit quieter, you could eat delicious food at Celestino restaurant, which is only a couple of minutes outside of the main square. If you have room for dessert, then I recommend the tiramisu at Celestino – it was delicious! If you aren't hungry enough for a full meal, then you could grab a quick snack and drink at Cafe Kalimera, a great coffee place in the morning and fantastic bar during the afternoon, evening, and night. I also recommend picking up some Gelato if it's a hot day. Il Capriccio Creperie Gelateria is a wonderful option for Gelato, with a ton of yummy flavors to choose from.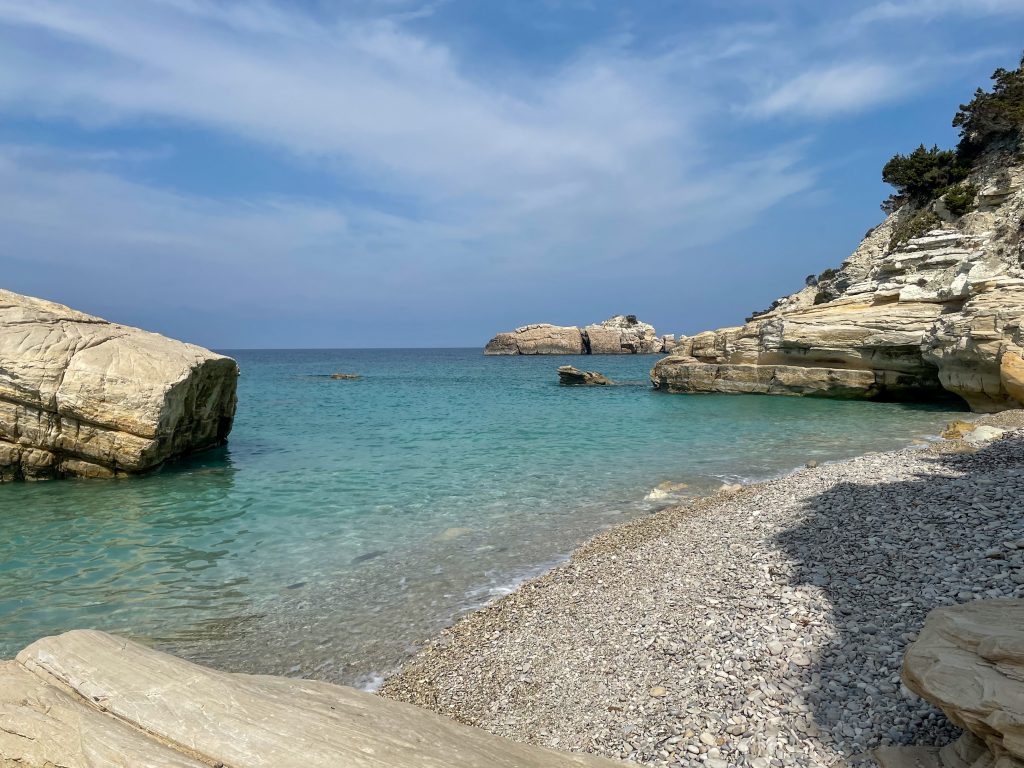 Once you've explored the town and grabbed something to eat, I recommend just following the coastline from the Old Port towards the southern end of the island. You will encounter a ton of beautiful views walking here, and can find lots of beaches with very few people on them where you can relax in the sun or swim in the beautiful and warm clear waters. Make sure to bring sunscreen and plenty of water – it is very sunny and hot during the summer on these beaches! I also recommend that you bring water shoes, because many of the beaches will be rocky or pebbly rather than pure sand beaches. There were 3 beaches near Gaios that my boyfriend and I loved, with the farthest being a 30-minute walk from Gaios. Octopus beach, the closest of our favorites, is a beach accessible from some short seaside cliffs and offers lots of spaces to swim and explore, including a platform a short swim away where you can jump into the water from. Sunshine Beach, a little farther away, was a very sunny beach with flat rocks where you can lay to sunbathe and a nice sandy beach to go in the water for a swim. Mystic Beach, the furthest of our favorites, was a small pebbly beach that was tucked away and somewhat hard to find from the main road. The waters here were the clearest of all of the Gaios' beaches we went to, and it often felt like a private beach you had all to yourself because it was very lightly trafficked.
No matter which beaches you spend time on, you are going to have beautiful crystal clear waters, cool breezes, and wonderful views of fish and other aquatic animals. You could honestly spend weeks just going to different beaches near Gaios, especially if you're a beach bum like me, so you'll have a great time no matter what you pick!
From the beaches, you could opt to head to the southern end of the island to see the otherworldly, rocky cliffs and eat dinner (Carnayo Gold Lounge Cafe had great food and drinks), or you could opt to go and spend more time in Gaios or just stay on the beaches until the sun goes down, whichever is your preference.
Day 2: Exploring the Whole Island
For the second day on Paxos, I recommend renting an ATV or scooter to explore the island as much as you can. The island is so small that you can get anywhere in about 30 minutes or less, even using slower vehicles, so you can really do a ton with a full day to explore!
There are a limited number of scooter and ATV rental places and the vehicles are in high demand, so I recommend booking well in advance to ensure that you will have a vehicle available. We rented an ATV from Ionian Rent a Car, a small family-owned business in Gaios Town, and I would highly recommend that service, just note that they only accept cash for their rentals. For rentals prices range from 15 to 20 Euros a day for a scooter and 30 to 40 Euros a day for an ATV.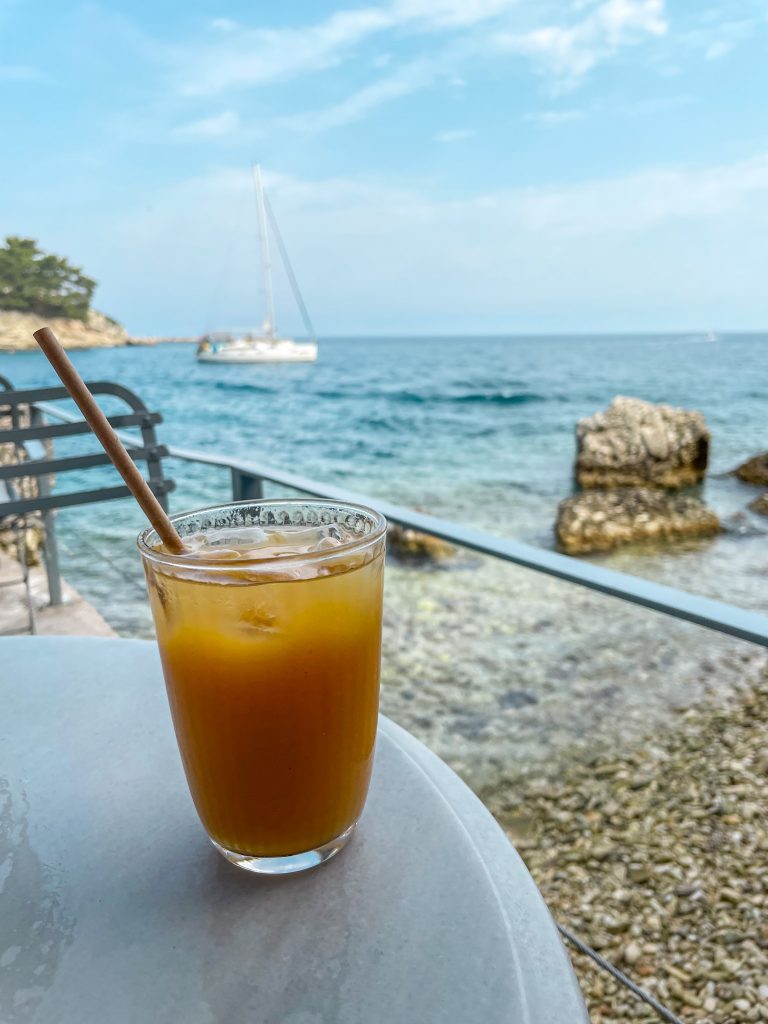 Once you have your vehicle, I recommend heading north to one of the other main towns on the island, Loggos. If you get an early start and haven't had breakfast, Loggos has some great options, with Martha's Bakery offering wonderful coffee and breakfast options. If you've already eaten or want something smaller, then La Rocher Bar offers small options and yummy smoothies and drinks. There is also a small beach attached to La Rocher Bar, which offers some beautiful views of the Ionian Sea, making it a perfect place to stop and relax for some time. There are also a few shops to check out and a dock to walk along in the quiet little town. All in all Loggos is a great place to pass an hour or two in the morning before heading on to the next stop.
From Loggos, it's only 10-15 minutes to the next town of Lakka. Lakka is larger than Loggos and has a lot of shops and restaurants to check out. There are also several nearby beaches worth checking out while you are there. There is plenty of parking available, with free spots open in the town for smaller vehicles like ATVs and scooters. Just be careful to move your vehicle from the town to outside parking areas before nightfall if you opt for those free spots, as barriers will block in your vehicle at sunset (this happened to us and it took a while to find someone to help us let out our ATV).
We loved the Paralia Lakka beach, which was a 5 minute walk from where we parked and offered clear, calm waters to relax in. I also recommend you eventually head to a second beach nearby, called Meattie Buir's Beach. This beach is five minutes away on ATV, and maybe 20-30 by foot, and it is well worth the detour. In addition to having the beach entirely to ourselves, this beach on the north end of Paxos offers stunning views of lots of rock formations and crystal waters.
Once you enjoy Lakka and the beaches nearby, I recommend hopping back on your vehicle to head to one last beach – one that I think is a MUST visit. The beach, which is about 15 minutes from Lakka, is called Erimitis Beach, and has only existed for about 15 years. It formed in 2007 during an earthquake when many of the nearby cliffs collapsed. This beach has stairs leading down to it, from which you can already see the STUNNING views of a peaceful beach surrounded by steep, tall cliffs. Once you are in the water, the breathtaking view of the cliffs above will make you question whether what you're seeing is even real, since it is so magical.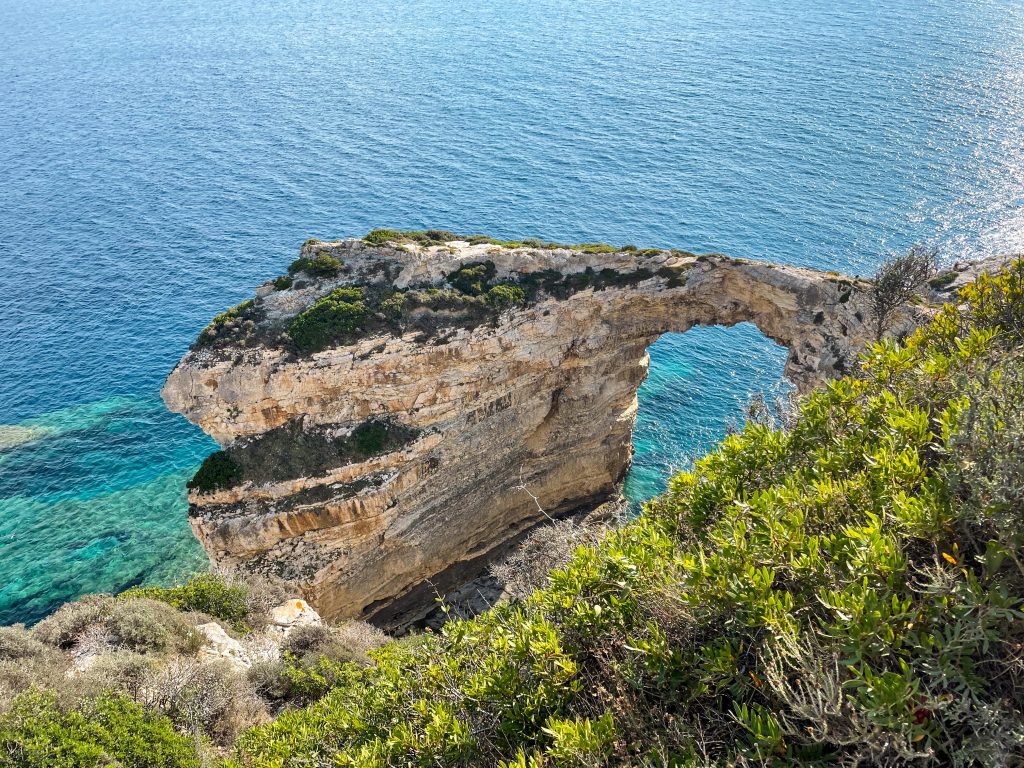 I wouldn't blame you for wanting to stay at Erimitis Beach until the sun goes down, but if you still have energy there is one more thing I think is definitely worth seeing while you're exploring Paxos. A drive and a short walk after parking will take you to Tripitos Arch, where you can see a beautiful natural rock arch standing defiantly over the western shores of the island.I just sat and stared at the arch for a long time, taking in the beauty of the surroundings. You can also catch a beautiful sunset from up above the arch if you stay until sundown.
After enjoying the sunset, head back to either Lakka or Gaios to grab dinner. Some great options in Lakka are Giappy, a cafe and snack bar with affordable and filling options, and Restaurant Alexandros, a traditional Greek tavern. Restaurant Alexandros will likely require reservations scheduled at least a few days ahead, as it is very popular. Enjoy a nice meal, dessert, and relaxation at night, then head back to Gaios to return your vehicle.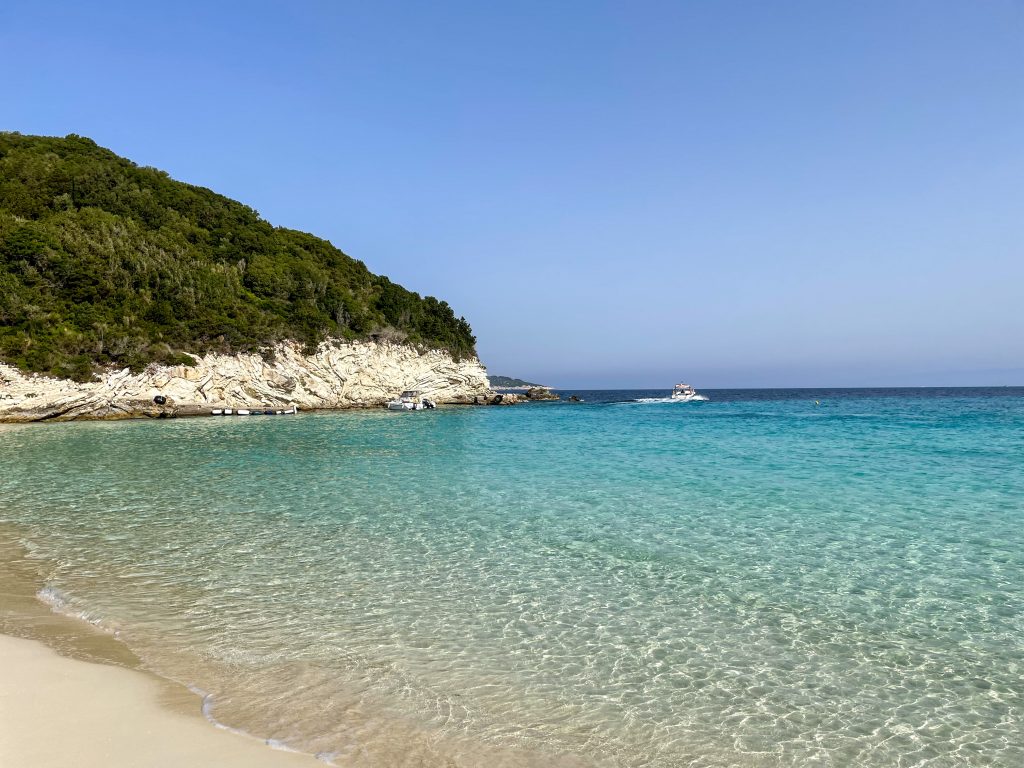 Day 3: Antipaxos
On the final day, I recommend waking up early to walk to Gaios Old Port, where you can catch a beautiful and peaceful view of the sunrise before breakfast. Il Capriccio Creperie Gelateria has a fantastic breakfast, with lots of variety (from crepes to shakshuka) in addition to their gelato, if you are interested in grabbing a bite to eat.
From here, you should head to Antipaxos, an even smaller island that is just south of Paxos and is easily accessible via water taxi. This island is known for its beautiful beaches which are often said to resemble Caribbean beaches, with bright blue waters and soft, white sand. Water taxis depart Gaios at 10:00 AM, 11:00 AM, and 2:00 PM and cost 15 Euros per person. I recommend catching the earliest boat to maximize your time on Antipaxos. You can also opt to rent a boat for the day instead of taking the water taxi, which gives you greater flexibility in going to and exploring Antipaxos, but it will cost significantly more (200 or more euros).
The water taxis take 10 to 15 minutes and the captain will give you two choices of beaches to get dropped off at, either Paralia Vrika or Paralia Voutoumi. Both beaches are beautiful and great for both lounging and swimming. I recommend Paralia Vrika, since it seems to be less busy in the early mornings and also offers sunbeds to relax on if you are looking to unwind. Whichever beach you decide on, you can walk to the other in about 20 minutes, but I would recommend having a pair of shoes if you are going to walk between the beaches, as it is an uneven, and at times steep, path. If you end up traveling between beaches, there is a third beach called Mesovrika Beach that is worth checking out for a swim as well.
We spent an equal amount of time on each of the beaches and enjoyed them all – they are seriously all beautiful and like nothing else you can find in Greece. Whether you prefer to lounge on the beach, swim all day long, or something in between, these beaches are easy to fall in love with.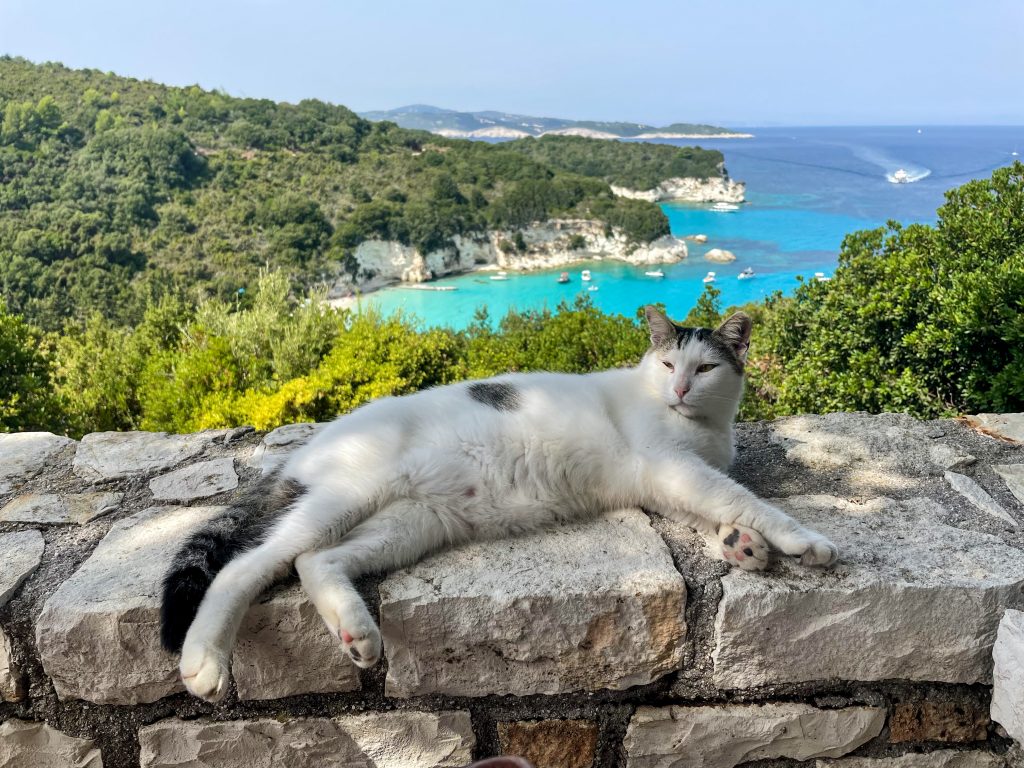 Antipaxos does not have many food options due to its small size, but you can still find delicious food on both of the two main beaches. Beach Bar and Restaurant Voutoumi is a beach bar that you can find on Paralia Vrika, which offers mixed drinks, snacks, and full meals throughout the day. Paralia Voutoumi doesn't have a snack bar on the beach, but there is a long staircase from the beach up to Bella Vista restaurant, which has great food options and also offers a panoramic view of the beach and sea below. We had coffee there and sat at the café area – which we had all to ourselves during shoulder season. If you're lucky, you might even see cute cats or kittens lounging in the nearby yard nearby!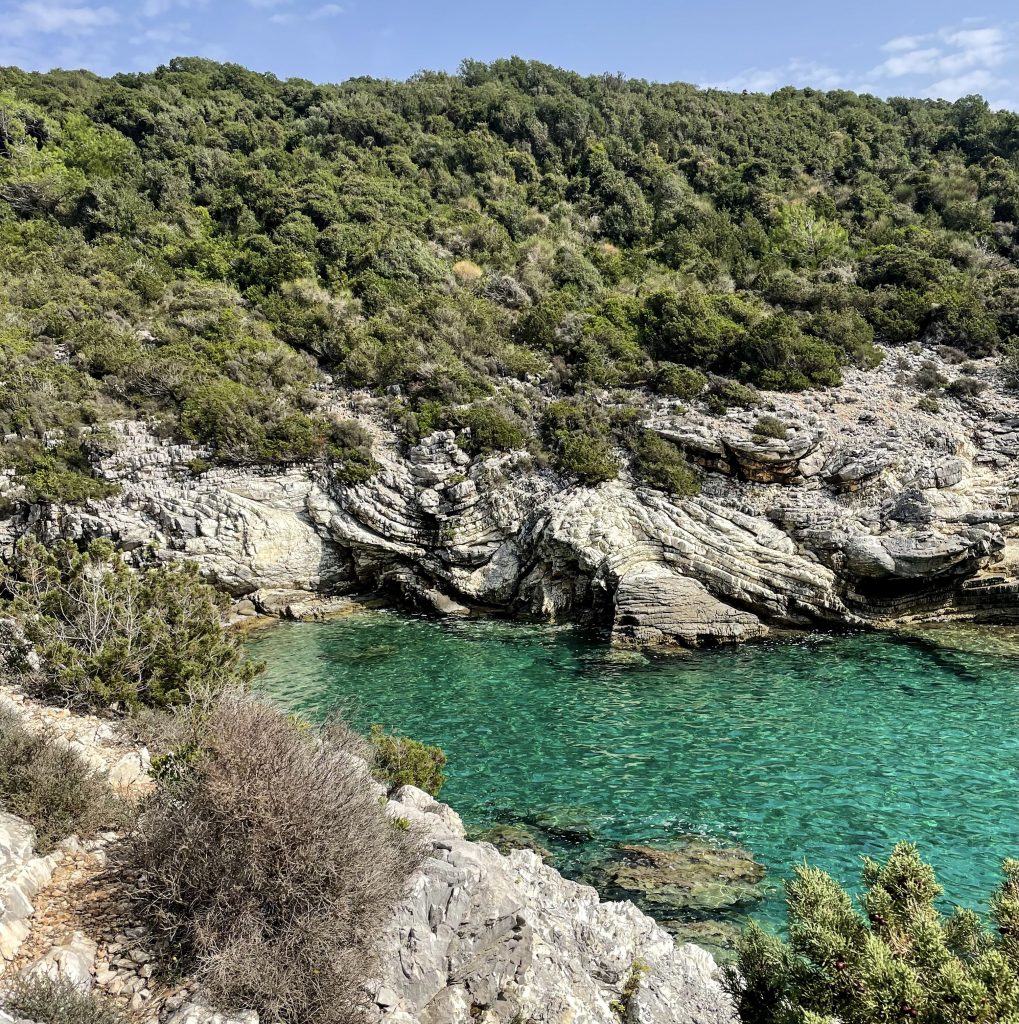 If you're feeling adventurous, I also recommend walking across the island to check out Kaloiri Cove. This spot has beautiful views, cliffs to jump from into the water below, and plenty of little coves to explore. We spent a couple hours here just swimming, jumping in, and snorkeling (therParalia Voutoumie are wonderful opportunities to snorkel here) before heading back to the main beaches.
The final water taxi to leave Antipaxos arrives at 5:00 PM, so no matter how you spend your time, be sure to be at either Paralia Vrika or Paralia Voutoumi by then to get picked up for the return trip to Gaios.
After returning from Antipaxos, your three days will be over and it will probably be time to leave for your next stop or to return home. Something about Paxos makes you want to stay forever (I already have an itch to go back and I was just there this year) but by following this guide hopefully you can squeeze as much adventure and relaxation from the beautiful island as you can get in a shorter time frame.
Did you find this post helpful? Pin it for later!