Albania might not be the first destination to come to mind when you think of a European getaway. However, as the number of yearly visitors increase, Albania is more ready than ever to welcome tourists to the beautiful country.
Albania is truly a country that has it all- the metropolitan city of Tirana, incredible mountainous landscapes, and secluded beaches with crystal-clear water. Although it may not be as developed as western European countries, Albania is a great place to travel solo.
Here is what you need to know before planning a solo trip to Albania:
Safety:
But.. Is Albania safe?
My answer for this is YES. I was surprised at how safe I felt in Albania, to be honest.
I had heard rumors that Albania isn't a safe country: the Albanian Mafia, drugs, kidnapping, human trafficking, etc. In reality, I never felt in danger while I was there, even as a small female. Albanians in general are extremely kind and helpful people. If they see someone in need of help, they will happily give it to them.
I'd say your biggest safety concern would be pickpocketing and getting ripped off by taxis. This pretty much goes for most Balkan countries, so just beware of your surroundings and have a general idea of how much a taxi should cost (unless you are going a super far distance, a taxi should cost NO MORE than 600 Lek, which is about 5 Euros). Check out my youtube video on how to avoid getting pickpocketed for some tips/hacks on keeping your personal belongings safe in Albania.
Currency/Pricing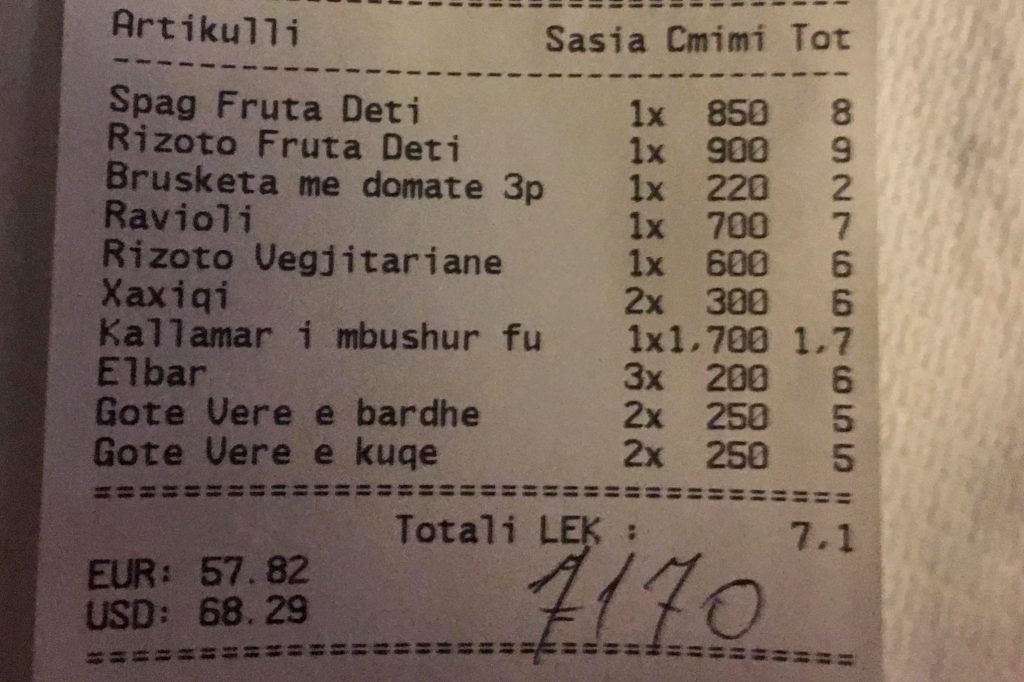 The Albanian currency is called the Lek. The conversion rate is roughly one euro to 120 Lek, or 1 USD to 108 Lek. Though, oftentimes it IS possible to pay with euros in this country. Just make sure you know the correct conversion rate when paying with euros so you don't get ripped off (this happened to me when trying to pay for a taxi with Euros in Sarande).
Albania is an overall very inexpensive country, which makes it a budget traveler's paradise. You can get a huge plate of food for just five euros. You can easily find a private room for less than 30 euros a night, and as low as 15 euros a night. As a foreigner, your money will go far in Albania. Therefore, you will have no trouble staying for an extended amount of time, and will be able to see a lot of the country without hurting your wallet.
Where to go
Again, it is easy to spend an extended amount of time in Albania- I was there for three weeks and there was still SO MUCH of the country I had not explored. Here are some of the best places to visit as a tourist in Albania:
Tirana– The funky and colorful capital of Albania. Great for nightlife, dining, and Albanian history museums.
Shkoder– Small quaint city north of Tirana. Great base for hiking the magnificent Albanian Alps.
Berat– Picturesque village in central Albania. Known as "The City of a Thousand Windows" for the historic white ottoman homes that line the mountainside. Great base for hiking and wine tasting.
Permet: Small non-touristy town, nearby the Benja Thermal Baths. You can do the baths as a day trip from Gjirokaster, but Permet is a beautiful little town that is definitely worth checking out while you are in the area.
Albanian Riviera (Sarande to Vlore)- Beautiful beaches along the Ionian Sea with crystal clear blue water. Check out Ksamil, Sarande, Himare, Borsh, Dhermi and Vlore. (Note- I heard from other travelers that Vlore is nothing special, but the other towns on the riviera are gorgeous!). Sarande is a great base to explore the riviera.
Gjirokaster– Known as the stone city due to the houses' unique stone rooftops. Beautiful fortress and great bazaar filled with colorful goods and souvenirs. Great base to see the Blue eye natural spring.
Korce– Known as the "City of Serenades", as you can listen to live authentic Albanian folk music every night of the week. Some also compare Korce to a miniature version of Paris due to its quaint cobblestone walkways.
Pogradec: Quaint lakeside town on the shore of the Albanian side of Lake Ohrid.
Transportation
In all honesty, transportation in Albania is not the best- but it is doable and will get the job done. Road conditions are not great- main roads that lead throughout the country are quite windy, and are not ideal if you are prone to car sickness. Traffic in bigger cities can get heavy, and people drive like mad. When I was in Tirana, I witnessed two Porsches crash into each other!
You have several options when it comes to getting around Albania. Here they are:
Busses
Keep in mind there are no trains in Albania, so the only mode of public transportation is the bus. The bus system in Albania is quite disorganized- it can be difficult to find a bus timetable online, so the best way to find out the bus schedule is to ask your accommodation.
The most common type of city-to-city transportation is the infamous minibus- essentially a large van like this: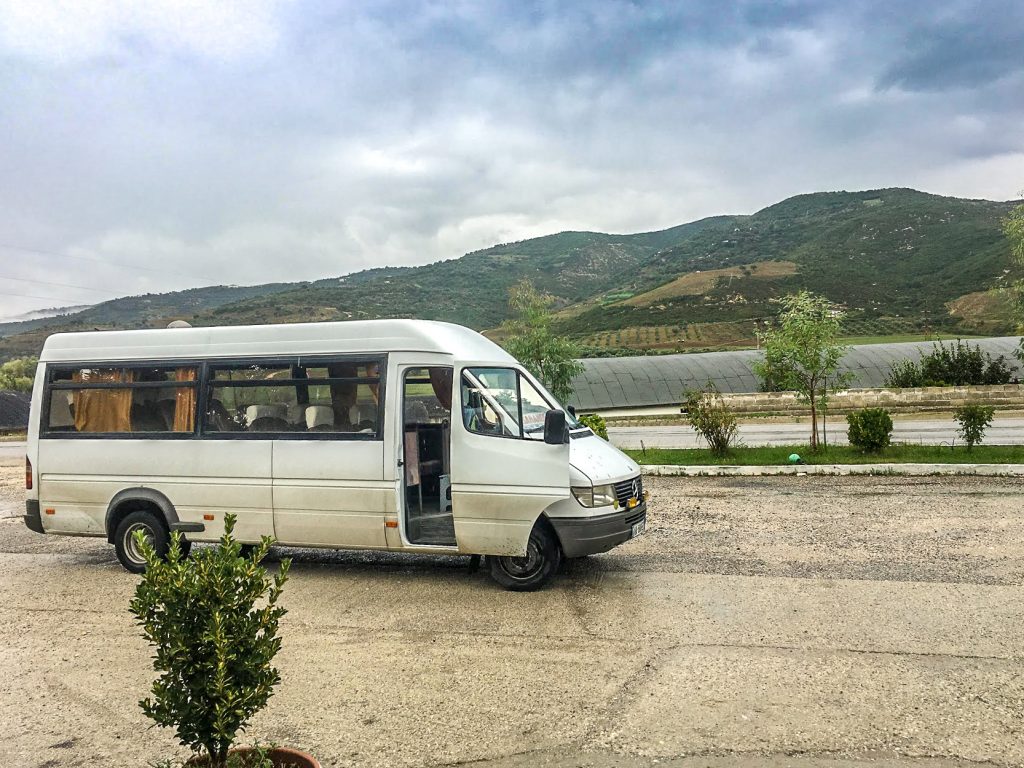 Be prepared: This is not the most glamorous way to get around in Albania. More often than not, the air conditioning does not work in these vehicles, and they get pretty hot and stuffy during the summer months. Busses fill up with literally as many people as possible, so be prepared to stand or be crammed in with a bunch of Albanians. But hey- it's all about the adventure!
Most bus stations in Albania are extremely disorganized. The "bus stations" essentially are big parking lots filled with minibuses and the occasional coach, with a sign in the front window labeled with the destination it is going to. When you arrive at the station, tell a worker where you are going to, and they will guide you to the proper bus. Its pretty straightforward, but can be overwhelming, especially as a solo traveler.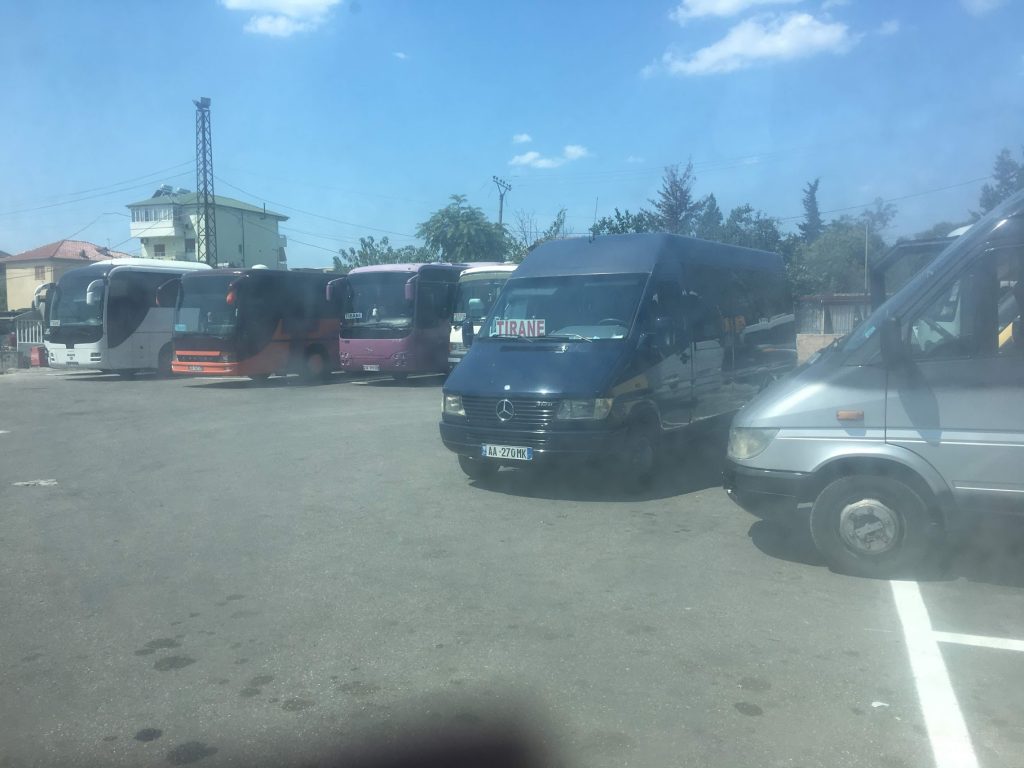 Note that the name of some cities may be slightly different in the Albanian language than the English language (Tirana = Tirane, Gjirokaster = Gjirokastra, Shkoder = Shkodra, etc). Keep this in mind when looking for your bus.
Also keep in mind that there will not always be direct busses, which also makes getting around a little tricky. For example, if you wanted to go from Berat to Himare, you may have to stop in Gjirokaster first before taking a transfer bus. While its manageable, it can get tiring and makes for a long day of travel. If you are leaving from Tirana, there are direct busses that will take you to most cities throughout the country.
Things to note if you will be traveling Albania via bus:
-I recommend getting to the bus station 15-20 minutes before departure so you will be able to choose a seat. You don't want to be standing in a crowded minibus for hours.
–Pay on the bus- not at a ticket counter or online. No reservations are necessary.
-Bus tickets should cost no more than 10 euros or around 1200 Lek. I think the most I spent on a one way ticket was 7 euros for a 5 hour bus ride.
-Oftentimes, there will be just one or two busses that leave per day to a specific destination- usually at an ungodly hour in the morning (the bus from Sarande to Korce leaves once a day at 5 AM). Make sure you are always on time so you wont have to deal with finding a transfer-bus route to get to your destination.
Hiring a car
This being said, if you feel comfortable doing so, I highly recommend hiring a car if you plan to explore a lot of the country. It is extremely inexpensive to rent a car in Albania, and it is not required to have an international driver's license. Hiring a car will also give you SO MUCH more flexibility and freedom when it comes to getting around Albania. There are many places that you cannot get to via bus, and having a car will allow you to see some of the most beautiful areas in the country.
Motorbikes
You can also find moterbike rental shops in a lot of Albanian cities. We rented one in Sarande for around 14 euros per day, which allowed us to travel along the Albanian Riviera and visit some of the most untouched beaches I've ever seen.
Hitchhiking
Hitchhiking is pretty common in Albania. While I haven't done it myself, I've met many travelers that hitchhiked throughout the entire country with no problems. I even had a hostel owner recommend it to me as a mode of transportation.
Do this at your own risk and only if you feel 100 percent comfortable doing so. Of course, it will always be better to hitchhike if you have at least one other person with you. As far as safety is concerned, I have yet to hear any hitchhiking horror stories in Albania.
If you want to give hitchhiking a go, the best way to go about it is to hold a sign that has the name of the destination you are going to on it. You will have the most luck hitchhiking at or nearby a gas station.
Accommodation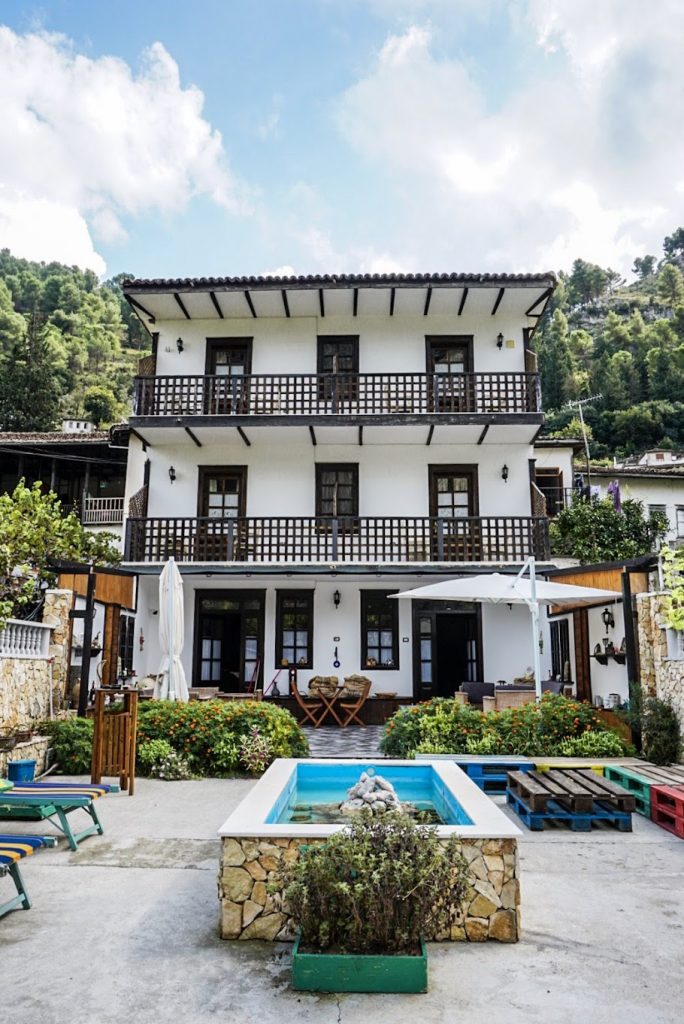 While 5 star resorts and hotels are a rarity, Albania has some AWESOME- and inexpensive accommodation.
Hostels: I always recommend staying in hostels for solo travelers- they are a great way to save money AND meet people from all over the world. While Albania does not have ultra-modern, high-end hostels, the hostels tend to be warm, cozy, and welcoming. Most Albanian hostels are small and family-run, which makes for a great and familiar atmosphere. Hostels cost anywhere between 8-10 euros per night in Albania.
Guest Houses: Guest houses are also a great place to stay in Albania. Guest houses are nice because you have privacy, while getting the opportunity to live with a local family. A room in a guest house will cost anywhere between 15 and 30 euros a night, depending on the amenities.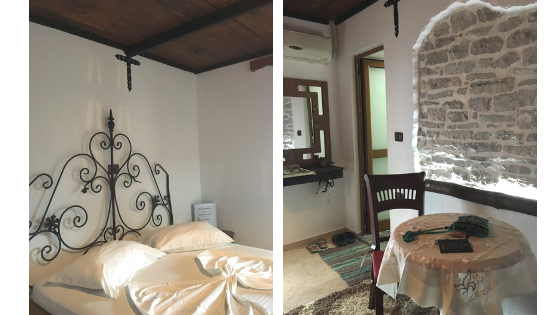 Hotels: Hotels in Albania are also great and affordable- a 4 star hotel with breakfast included will cost around 30 euros per night.A luxury hotel will cost around 50-70 euros per night.
Apartments/Airbnbs: If you want more privacy, consider renting an apartment for a few nights. I booked my apartments in Albania via booking.com, but there are loads of inexpensive ones on Airbnb as well throughout the country. Use my link to get $40 off your Airbnb booking!
When to Go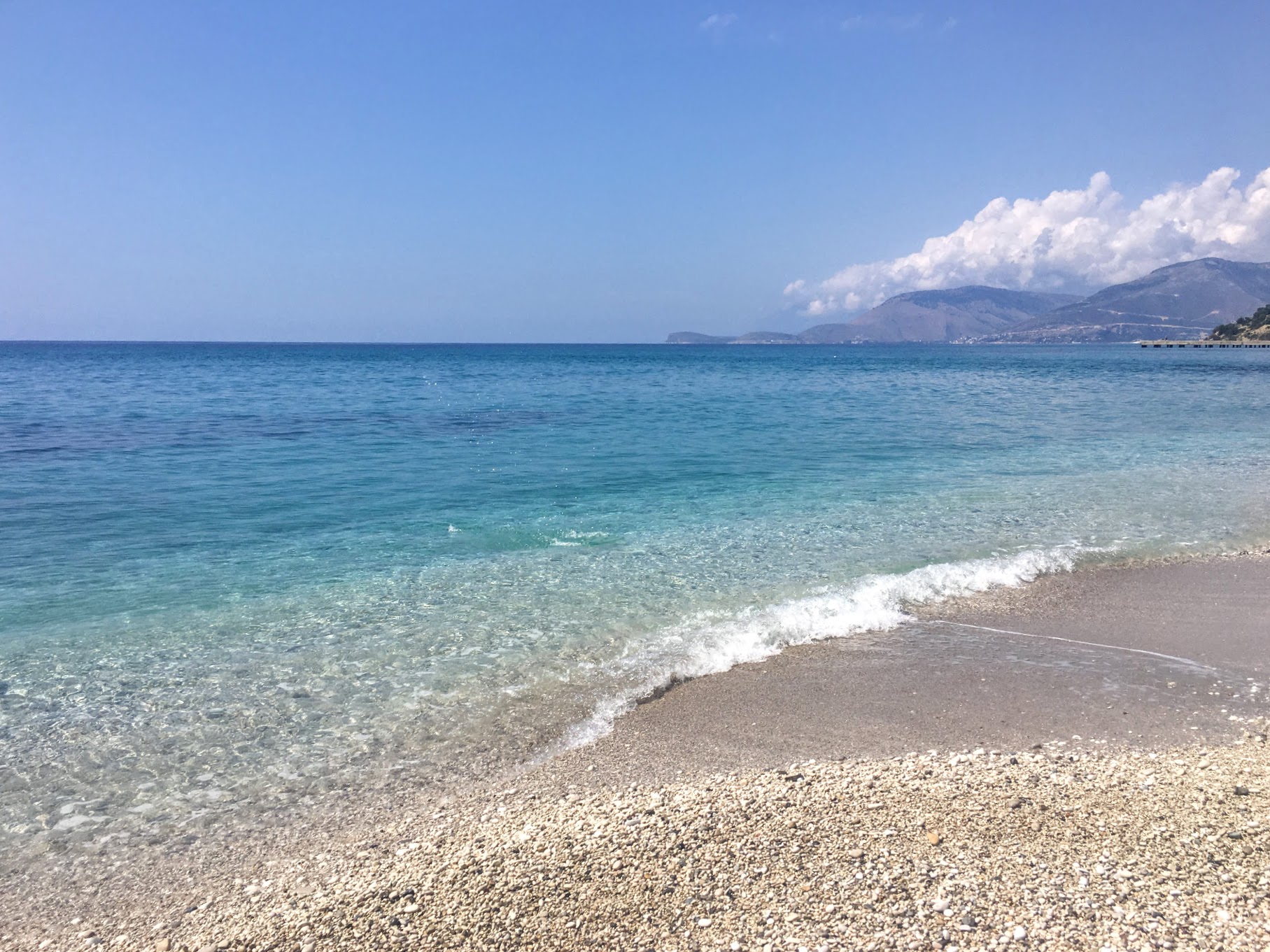 Albania is the most lively during the summer months– but temperatures can get up to 100 F or around 40 C in some areas. Of course, if you want to visit the beautiful beaches and go for a swim, the summer months are the best time to go to Albania. Keep in mind some coastal towns such as Ksamil get pretty crowded during this time of year.
Shoulder season (September-October, April-May), is a great time to visit if you want to avoid the heat and crowds (though Albania never REALLY gets crowded). If you want to go during the winter months, keep in mind that many hostels and hotels close for the season, especially in smaller towns and along the coast.
Health and Sanitization
Water
Unlike most of mainland Europe, tap water in Albania is not drinkable. Make sure to stock up on bottled water to avoid dehydration (especially during Albanian summers). I used bottled water to brush my teeth because I'm paranoid. Most travelers used tap water and were perfectly fine.
Stray animals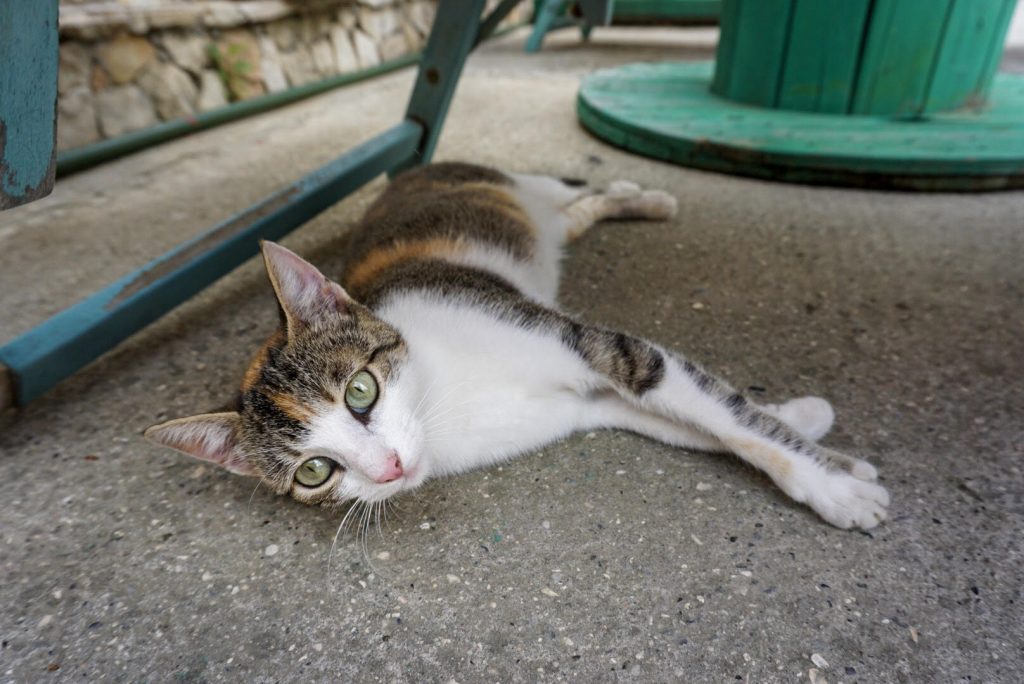 Be prepared to have your heart broken, as there are stray dogs and cats all over the country. As cute as some of them may be, use common sense and DO NOT TOUCH THEM. I met a backpacker who was bit by a stray dog and had to go all the way to Kosovo to get her rabies shot, as hospitals in Albania apparently do not supply them.
Food Safety
In regards to food safety, most restaurants are perfectly fine, especially ones in the city center. If you are paranoid about getting sick from food, read restaurant reviews on google maps before eating at them.
Language
The Albanian language is one that is COMPLETELY different from any other language. When I first arrived, I said "thanks" in Serbian to one of the hotel workers. Needless to say, she responded with a look of total confusion. While most of Albania's surrounding countries speak a dialect of Serbian, the Albanian language is 100% unrelated to it. It's unrelated to any language- meaning for a foreigner, it is impossible to understand.
While some Albanians speak fluent English, many don't. I actually noticed that a lot of Albanians know Italian, but not English. I was also surprised to see that a lot of hotel workers didn't know a lick of English. Therefore, it is helpful to have the Google Translate app and learn a couple of key Albanian words/phrases.
What to Expect
You may experience a bit of a culture shock when you go to Albania- I know I did. Albanian culture is quite different from most European countries. When I left for Albania, a Montenegrin man said to me, "Albania is not Europe- you will see what I mean when you get there".
While I disagree with this statement, I see what he meant. For decades during the 20th century Albanians were not allowed to leave the country, which made it totally isolated from the rest of Europe. As a result, it has developed culture and customs that are vastly different from most of Europe.
Here are a few things to expect with you go to Albania:
Reminders of Communism
Expect to see a lot of reminders of Albania's communist past, especially in the capital city of Tirana. You will see a lot of typical communist architecture scattered throughout the country- i.e. boxy and gloomy concrete apartment complexes and abandoned grey buildings. While they are not the most pleasing to look at, each remnant of communism has a story to tell. Expect to see a LOT of bunkers throughout the country (there were 750,000 built during communist times). You can explore a 3,ooo square meter one, Bunk'Art, in Tirana. Admission is just 500 Lek, or 4 Euros.
Albanian People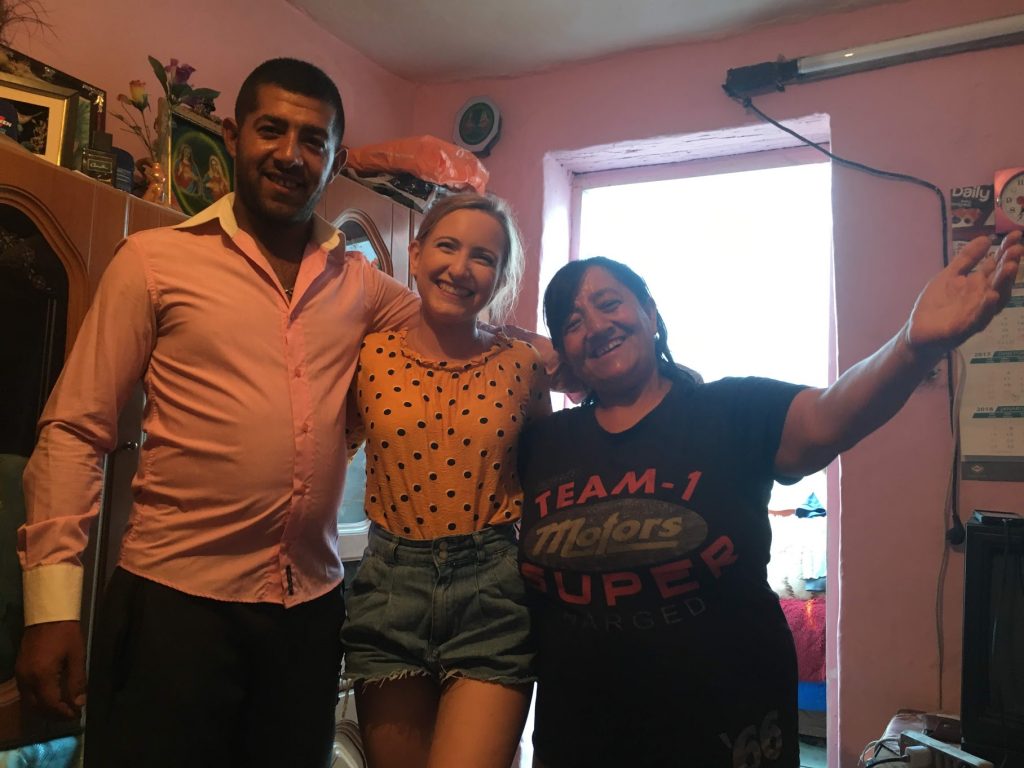 Expect to meet some of the kindest, most hospitable people when you go to Albania. From what I experienced, Albanians love tourists and love to share their culture with them. Don't be surprised if a local invites you into their home for some raki or dinner (this happened to me twice during my stay in Albania!). An older Albanian man invited some friends of mine into his home, and showed them a scrapbook filled with pictures of himself with tourists he's befriended over the years. I got the opportunity to learn how to make burek (traditional Albanian pie), Turkish coffee and beef dinner with the Albanian family pictured above.
Day to Day Life
You will see a lot of elderly men out in the park during the day, playing board games with one another on make shift tables (pretty much the cutest thing ever). Main pedestrian areas and town squares tend to be empty during the day. These areas become a gathering spot for locals on weekends and evenings, giving it a completely different atmosphere.
There are loads outdoor markets in Albania. Not only will there be food vendors, but people selling all sorts of goods- from bar soap to vacuum cleaners.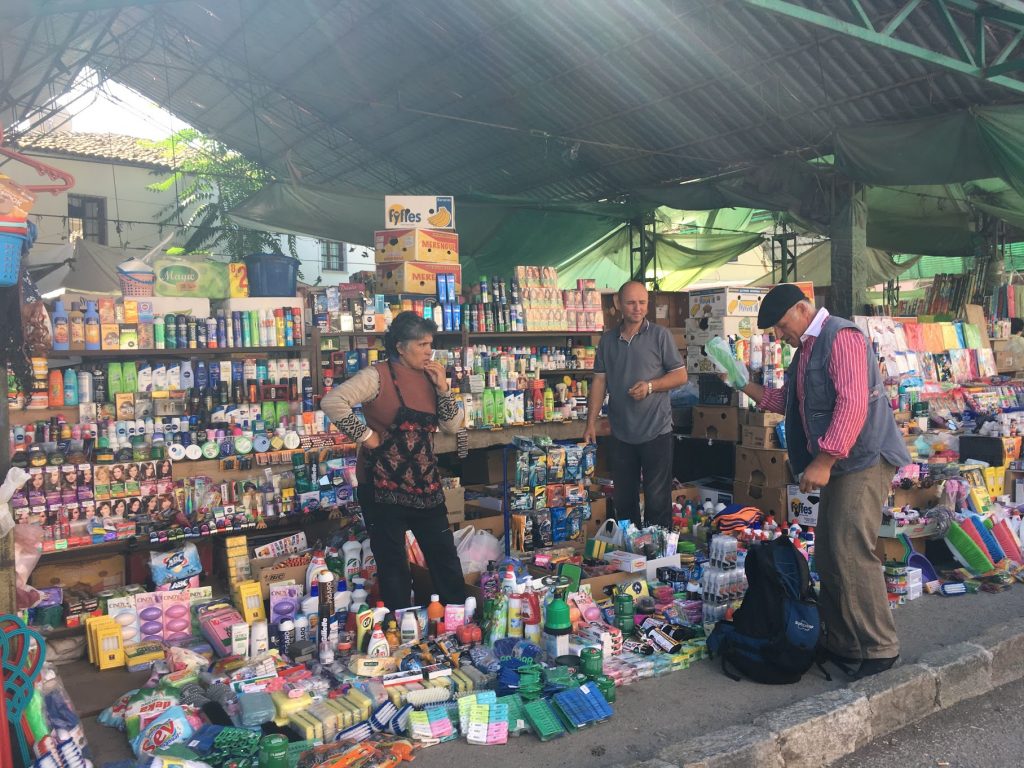 There are some incredible food markets as well that are filled with fresh – and dirt cheap – goods. I recommend going to one of these markets, even if you don't plan on buying anything. It is a great place to experience local life and to immerse yourself in everyday Albanian culture.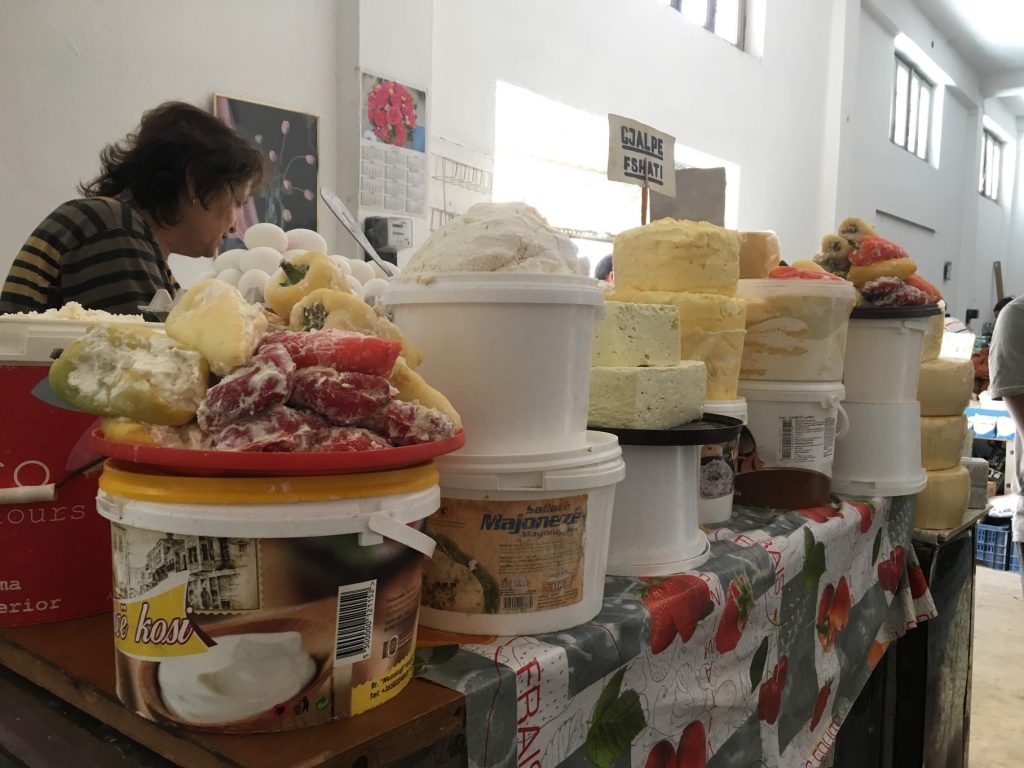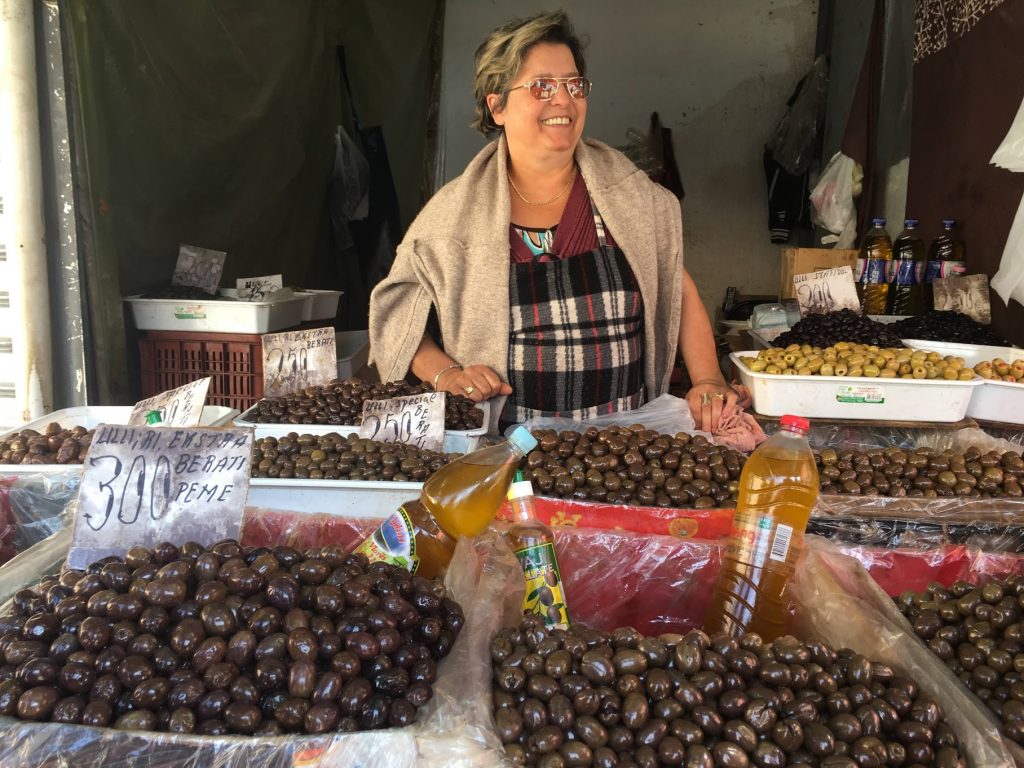 Life is simple for most Albanians. With the average salary being around 400 Euros/month, most citizens do not live extravagant or luxurious lifestyles. Many live in poverty, and it is not uncommon to see beggars on the street. Sometimes, beggars will go inside restaurants, going table to table asking for money. Don't be surprised if you encounter this while eating a nice restaurant.
The Trash Issue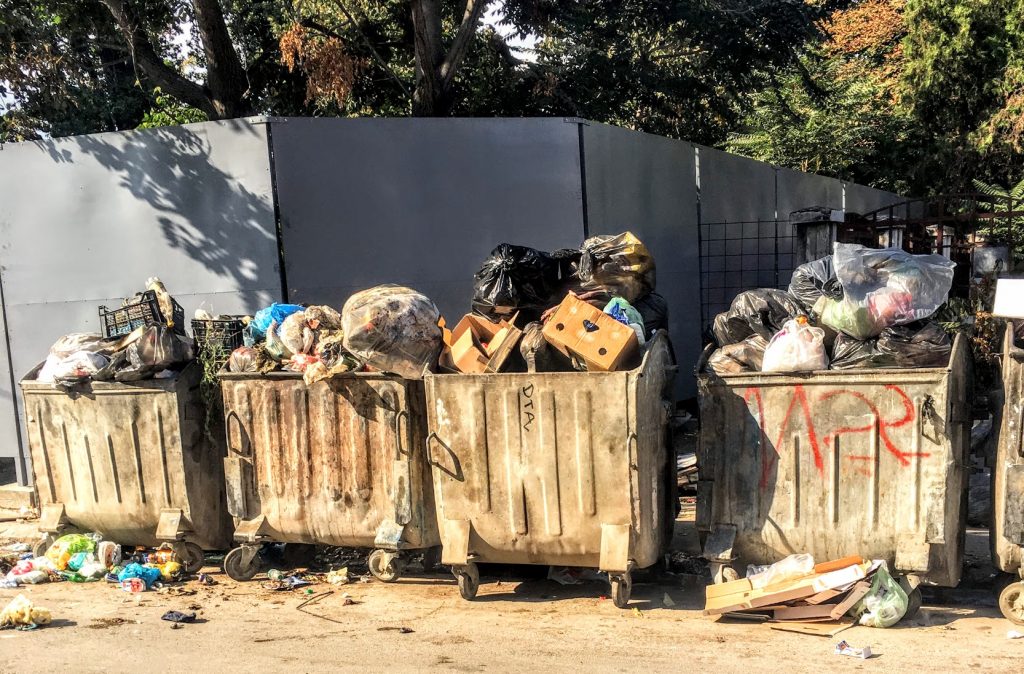 It is no secret that there is a terrible a trash problem in Albania. Be prepared to see overflowing garbage bins virtually everywhere- and the smell is horrendous. Unfortunately, some of the secluded beaches I went to also were dusted with piles of trash. Again, this is a result of the underdeveloped nature of Albania and its lack of resources to put an end to the garbage issue.
Food and Drink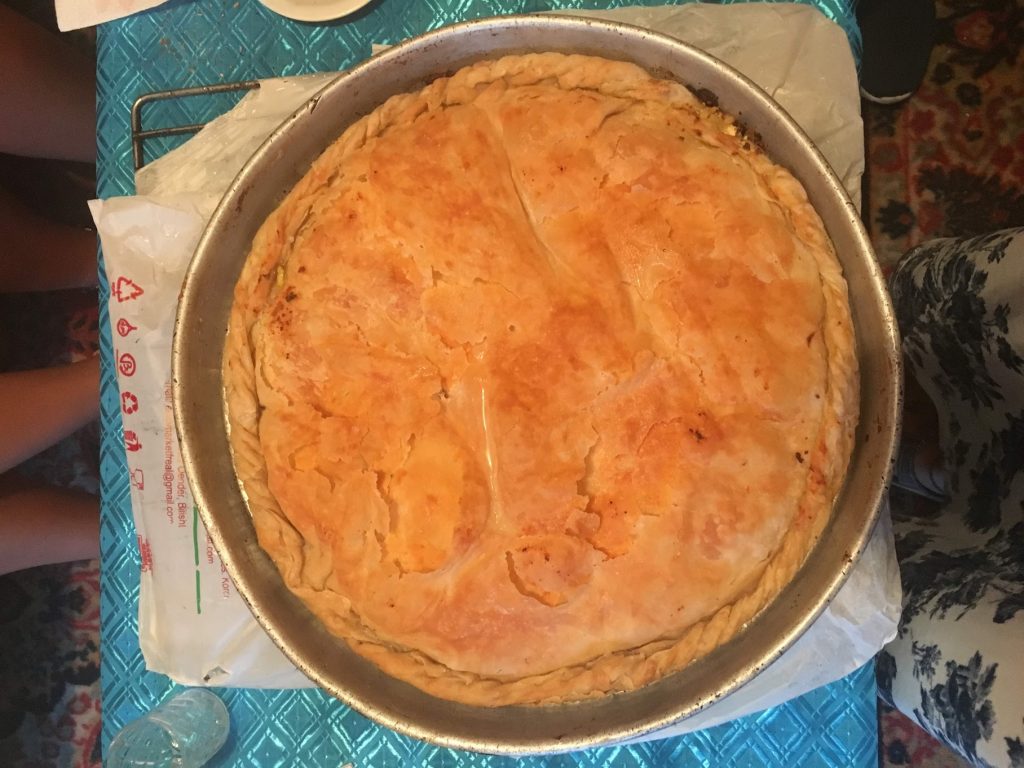 Expect meat-heavy dishes. Albania is not the most vegetarian/vegan friendly country, as most main courses include some sort of meat.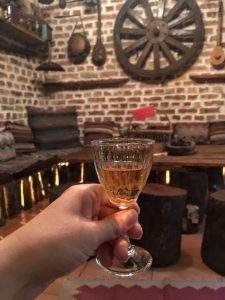 Raki is the traditional liquor that you will find all over Albania. It is served in a shot glass (though i did drink it from a pepper in Berat!), and meant to be sipped- NOT taken as a shot.
If you were to only try one Albanian dish, make it burek. It is essentially a pie made with filo dough and filled with meat or cheese. It is traditionally served with a yogurt drink, which basically tastes like watered down greek yogurt. You'll find burek served at pastry shops and restaurants. The best part? You can have it for breakfast, lunch, or dinner.
That's a wrap!
Do you have any questions about solo travel in Albania that I didn't answer? Be sure to leave them in the comments, and I'll get back to you as quickly as possible 🙂
---
Like this article? Pin it for Later!