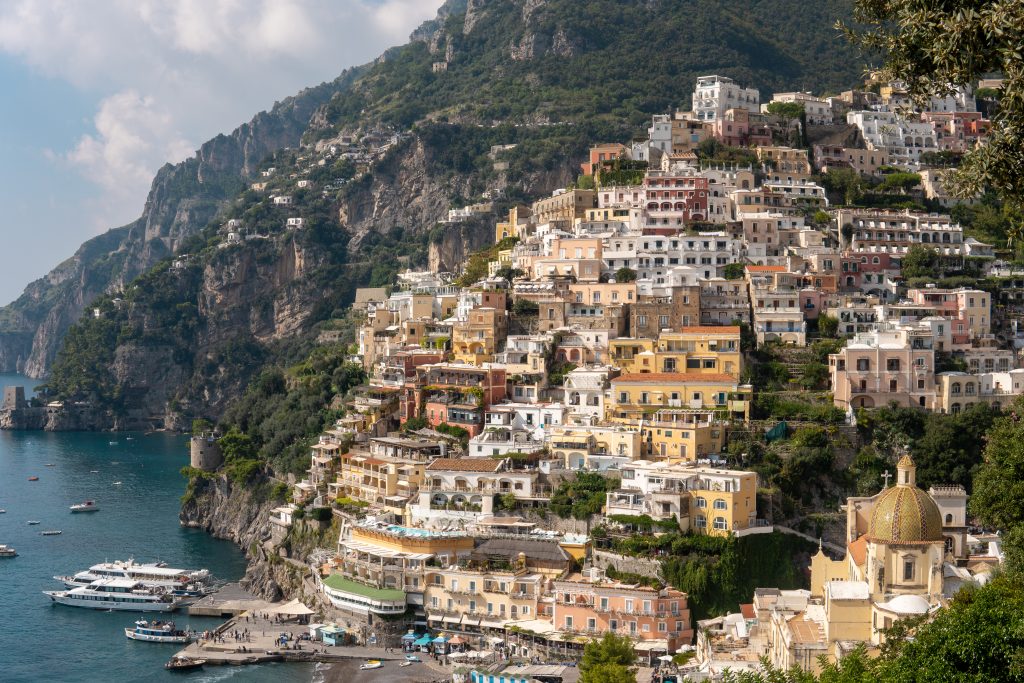 Visiting the Amalfi Coast on a Budget
The Amalfi Coast is among one of the most popular travel destinations in the world, and it's easy to see why, with its stunning cliff-top vistas, colorful towns dotting the coastline, and beautiful beaches offering some of the best summertime destination experiences you can find in Europe. Unfortunately, partially due to its popularity, the Amalfi Coast has a reputation as a very expensive place to take a vacation.
While it's definitely more expensive than many other European destinations, the Amalfi Coast doesn't HAVE to be an exorbitantly expensive trip. If you plan properly, you can easily visit the Amalfi Coast on a budget. In this blog post, I'm going to share with you my best tips and suggestions for visiting the Amalfi Coast without breaking the bank!
Things to Consider Before Going
Before you take a trip to the Amalfi Coast there are several things you should be aware of to ensure you don't run into anything that could cause issues during your trip. These are just some basic things to either plan ahead for or simply be aware of to make sure that you can enjoy your trip as much as possible.
Be Ready to Walk (And Climb Stairs)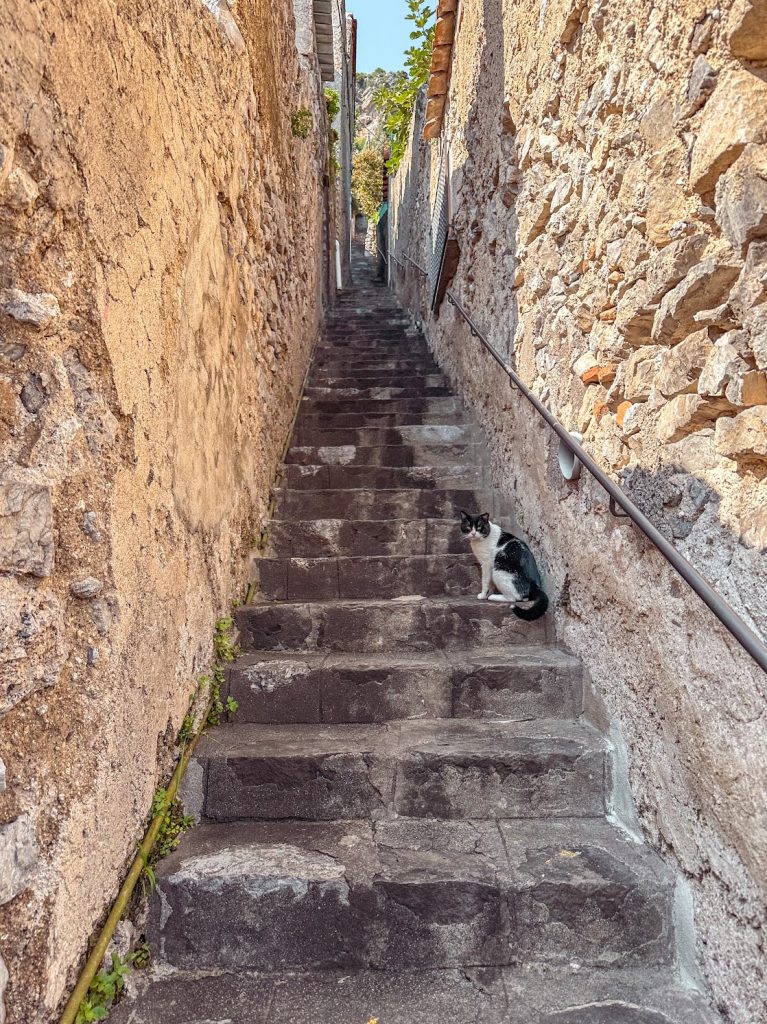 The first thing to be aware of is that you are likely going to be walking A LOT. Most of the towns on the Amalfi coast require you to spend your day walking if you want to take in everything that they have to offer, whether it be browsing the various vendors, taking in the gorgeous views along the coastline, getting lost in the quaint alleyways, or finding the best spots to swim and sunbathe. It's possible to avoid walking, but you will either need to pay for very expensive taxis or private transportation, spend a good deal of time waiting for public transportation, or miss out on some of the off-the-beaten-path attractions.
Also, the Amalfi coast is rather mountainous and has some major elevation changes that will require you to walk up and down a lot of stairs, particularly if you stay higher up where accommodation tends to be cheaper. When we stayed in a guest house near the top of the hill in Praiano, we were easily climbing up 100 flights of stairs a day, if not more. Even if you stay closer to the sea and just plan to chill on the beach, you will need to go down a lot of stairs to access many of the beaches (meaning you'll have to go back up them after you're done with your beach day).
For these reasons, I recommend being prepared for a LOT of walking and making sure to bring a good pair of shoes. If you have mobility issues, don't be discouraged, as you can still definitely have a great trip to the Amalfi coast, but you will need to make sure you set up appropriate accommodations, plan for transportation, and research which towns best suit your needs.
Water Shoes Can Be A Life Saver
Water shoes may not be the first thing on your Amalfi Coast packing list, but you should consider purchasing a pair to bring on your trip. Most of the beaches on the Amalfi Coast are pebbled beaches and not sandy beaches, and the pebbles can be very uncomfortable on your feet, especially if you aren't used to them. There are some general stores along the coast that sell water shoes, but I suggest purchasing them before going on your trip to save money and find the right size. I personally suggest these watershoes from Amazon – they are super durable and they can actually pass for sneakers!
Consider Bringing Your Own Sunscreen
With the bright sun always shining on the Amalfi coast, and not many trees to provide shade, it's definitely a good idea to have sunscreen or some kind of protection from the sun (especially if you have a fair complexion like me). That's why I was so surprised when I was having a lot of trouble finding sunscreen in most of the main towns! Even when I was able to find some sunscreen, the SPF was very low and the prices were much higher than normal, with even little bottles going for over 10 euros. If you are able, it is probably best to bring your own sunscreen to avoid any of these issues. If you aren't bringing a checked bag and you are packing carry-on only, I suggest this purchasing a few of these 3 oz Coppertone waterproof sunscreens to bring with you. You'll definitely want to bring waterproof sunscreen as you will be swimming and sweating a lot, plus these puppies are SPF 50 which is RARE to find in Italy.
Public Bathrooms Are Not Free
While there are plenty of public toilets across the Amalfi Coast, be prepared to pay to use them. If there is ever an urgent need to use the bathroom, you almost certainly won't find a bathroom for free, and your options are to either pay for a public bathroom or go into a restaurant and use their bathroom, which requires that you actually purchase something. I suggest always having a couple of euro coins on hand at all times in case an emergency bathroom situation arises.
Book Well in Advance (depending on the time of year)
If you plan on visiting anytime between June and August, I suggest booking as far in advance as possible, as accommodation tends to book up fast during peak season. The well-rated affordable options usually book out first, so if you want to stay in a nice hotel that WON'T break the bank, the farther in advance you book, the better. For more affordable options, it is best to book in advance even during shoulder season or off-season to ensure you don't have to spend more for your stay.
When To Visit
There are three main seasons during the year (Peak season, Shoulder season, and Low Season) all of which each have their own benefits. Ultimately, no matter when you go to the Amalfi Coast, you can have an incredible vacation, but finding which season best suits your travel style can really elevate your trip to the next level!
Peak Season
Peak season in the Amalfi coast runs from early June to late August, with August in particular being very popular. It's a beautiful time of year, with long sunny days and very little rain. Also note that if you like to party or experience the nightlife, then this time of year is the liveliest! Despite this, I tend to avoid traveling during peak season due to the higher temperatures and the extreme amount of crowds that it brings, which can sometimes make wonderful destinations less enjoyable (or at least more stressful). Due to high demand, accommodation and flight prices tend to be at their highest during this period, as well, which should be taken into consideration. 
If you plan to travel during this period, don't worry – you can still have an absolutely incredible trip and will likely have fantastic weather, but you may have to pay more attention to the time of day you visit certain attractions to make sure you can enjoy them to their full potential (getting there early usually means WAY less crowds) and you may need to work harder to find good deals that don't break the bank. 
Shoulder Season
Shoulder season runs from early April to the end of June and from early September to late October and is my personal favorite time to visit the Amalfi coast! During this time, the weather is more enjoyable, with days still being warm and sunny with little rain, but you have the added bonus of it not being so hot that walking around the towns is miserable, which can sometimes happen during the hottest days in peak season. I was in the Amalfi coast in mid-October last year and the weather was still beautiful with the water still warm enough to swim in and enjoy, so don't worry about not being able to enjoy the beaches during this time!
Furthermore, you will encounter far fewer crowds during shoulder season, meaning that you can enjoy locations with less noise pollution and obstructed views. Some days you might even get places to yourself, which makes them feel especially magical (although there are lots of travelers like me that love to travel in shoulder season so don't count on this happening too often). Perhaps best of all, the prices for flights and accommodation are much more affordable during shoulder season since there is less demand, which means that you can save money and extend the trip longer than it would last during peak season! 
Low Season
Low Season happens from November to March and has the worst weather, with chillier temperatures making it so you can't enjoy swimming in the sea and more frequent cloudy and rainy days replacing the long, sunny days of the other months. However, it also comes with its own upsides! Notably, prices will be the cheapest in the Amalfi Coast during this season (although be aware that there will be less accommodation and restaurant options as some do close for the season). Furthermore, there will be far fewer tourists during this season and you will get to experience the Amalfi Coast much more like a local does, which can be an incredible experience! If you don't care about  bumming it on the beach and swimming in the sea, you can have an incredible time visiting the Amalfi coast at this time when its charming towns are at their most peaceful.
Where to Stay on a Budget
While you could truly stay anywhere on the Amalfi Coast and have an amazing trip, I am going to recommend the locations where I truly feel you get the best bang for your buck. Most of these options I have personally stayed at and feel are great value for your money, either because they have cheaper rates than many of the Amalfi Coast hot spots or because they offer a truly unique experience (or both)!
Praiano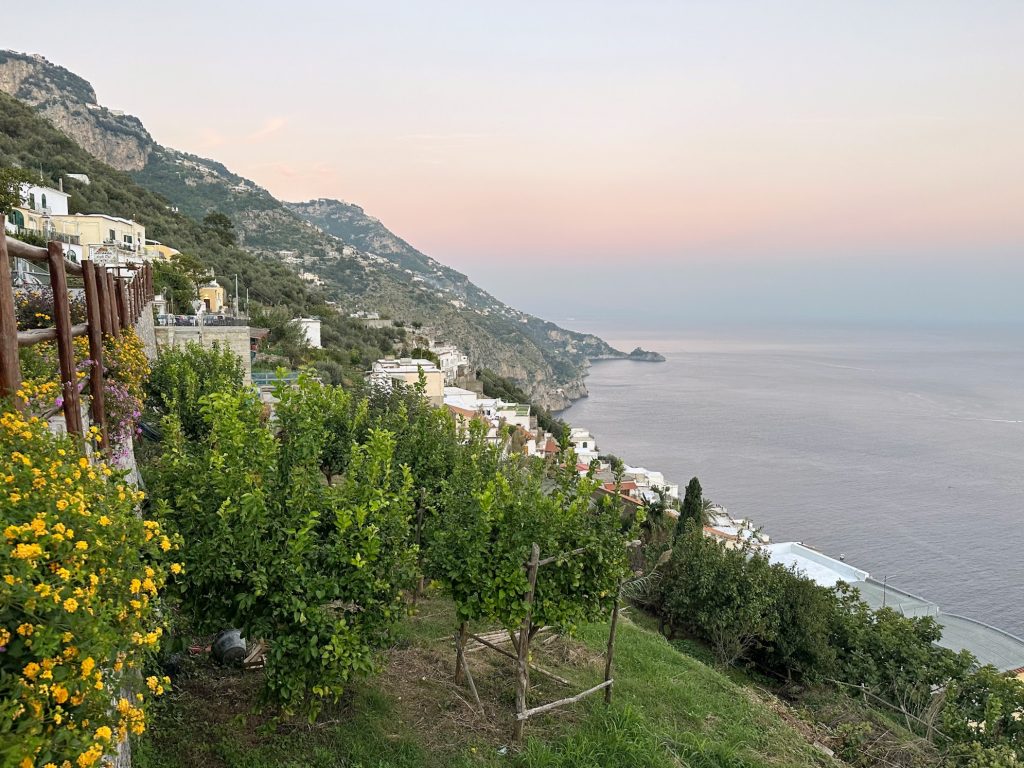 Praiano is a quaint seaside town sandwiched right between the very popular towns of Positano and Amalfi, and is probably my personal favorite town on the Amalfi coast! With views just as stunning as the more popular towns, Praiano offers a much more laid-back vibe with far fewer tourists and noticeably more locals out and about. From the stunning seaside cliffs and lush hilltop scenery to the decoratively adorned ceramic shops and quiet local eateries, Praiano has something for everyone.
Perhaps more importantly, Praiano is also a great budget option for an Amalfi Coast base, with everything from affordable B&Bs at the top of the hill to seaside hotels offering significantly cheaper rates than you would find in the more popular towns. You can find hotels right on the sea in Praiano for a quarter of the price of hotels in Positano. But, if you're willing to walk up and down some – okay, it's kind of a lot of walking, so be prepared to exercise – extra steps every day, there are hotels near the top of the town for far cheaper than that (also with incredible views)!
DON'T WORRY – Just because it is cheaper to stay in Praiano doesn't mean you are getting a worse view or experience. Positano and Praiano are less than 3 miles apart by water, meaning you are getting a view of nearly the same stretch of sea and coastline (and the views are definitely just as good)! Furthermore, I personally think that Praiano has some of the best beaches in all of the Amalfi Coast. With so much to offer and more affordable prices, I think that Praiano is one of the best options for a base in the Amalfi coast.
For part of our stay in Praiano, we stayed in the Maresca Hotel Praiano, which was a reasonably affordable hotel with spacious rooms and beautiful balcony areas with amazing views of the sea. Antonio and the staff were incredibly friendly and made sure to make us feel welcome in every way possible, including helping us plan our activities on certain days.
We also stayed at Locanda Degli Dei, a more affordable option located at the top of the hill. Esther made sure to make us feel welcomed like family, and provided a different breakfast for us in the beautiful garden area with views of the sea every morning. This B&B is a wonderful option if you want to hike the Path of the Gods, which I will talk about in more detail later, as it is located right at the foot of the starting trail in Praiano.
Ravello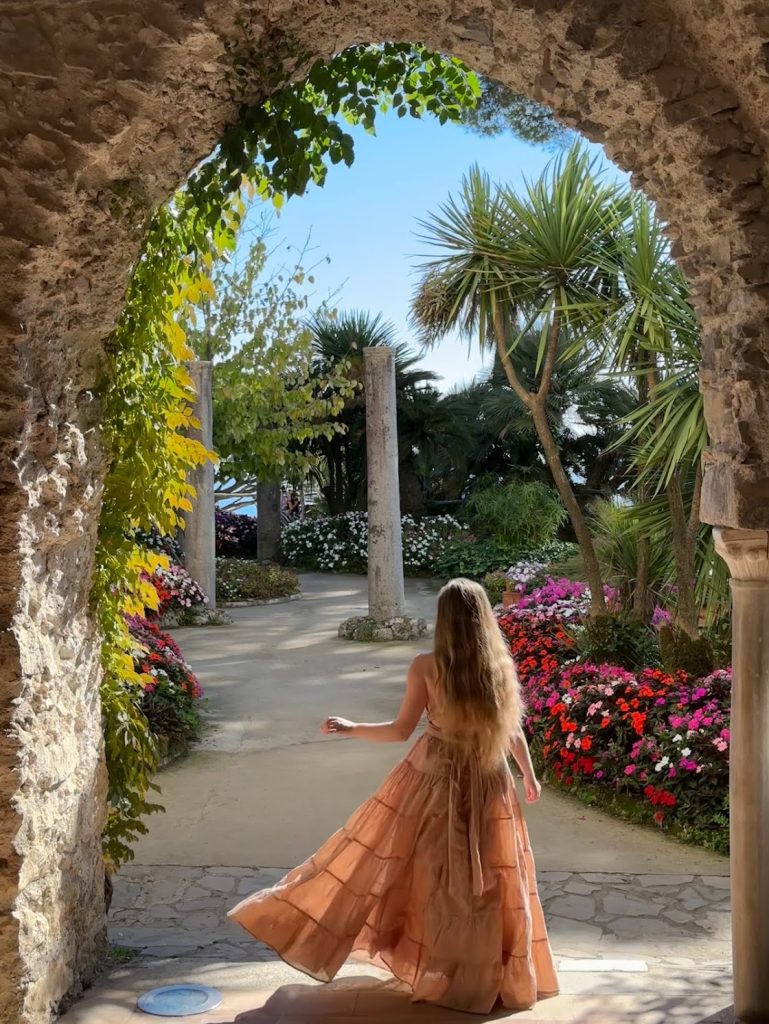 Located further down the coast than Amalfi town and sitting at a notably higher elevation than other towns on the coast, Ravello offers a unique perspective. At over 1,100 feet above the sea, Ravello offers some of the best panoramas you can find on the Amalfi coast. Furthermore, Ravello features a much quainter town than the busier towns like Amalfi and Positano. With beautiful architecture, quieter streets, and world-renowned cliff-top gardens, Ravello is definitely worth visiting and is a great potential base. 
While cheaper than the most popular locations on the coast, you definitely pay a premium for the unique experience that staying in Ravello offers. This means that if you are truly looking for the cheapest options on the coast, you are better off staying elsewhere. Keep in mind that Ravello is also much farther from the beaches than other towns, due to its elevation, so it might not be the best option for beach bums either. 
Scala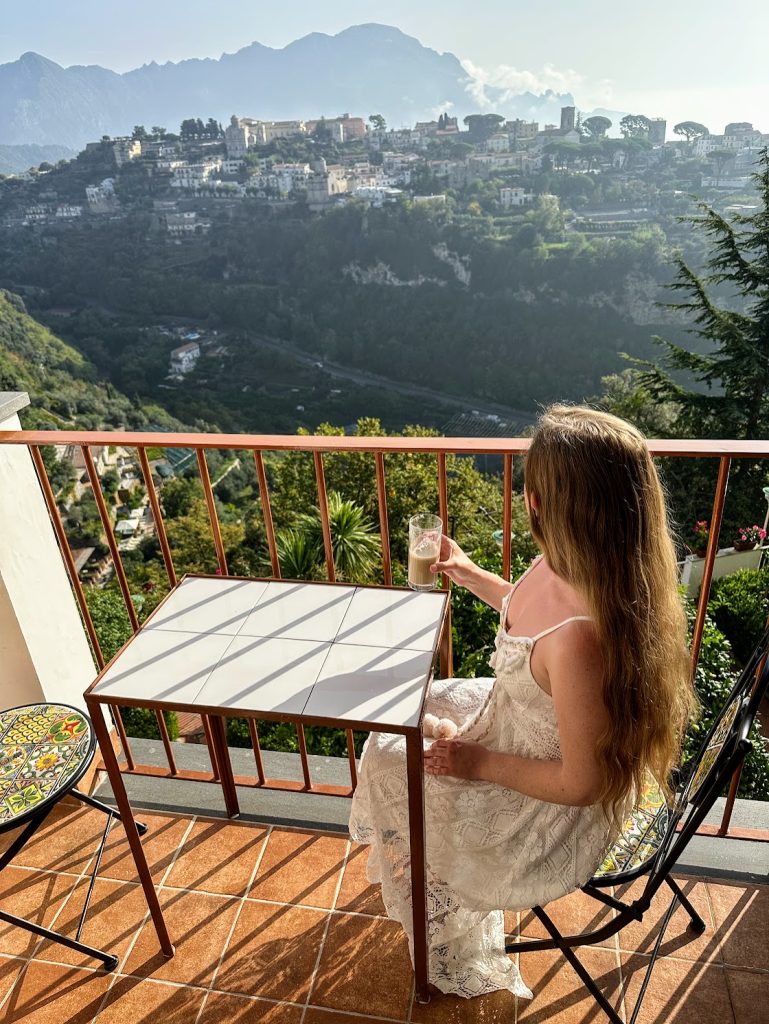 Located right across a valley from Ravello, Scala is a beautiful town seated amongst the mountains. Known as the oldest village in the Amalfi coast, Scala holds a special place in the history of the region, despite being much lesser known than its surrounding towns. 
While Scala is not seated right on the sea, and thus might not be considered a worthwhile base by many, it was one of my favorite places we stayed during our trip to the Amalfi Coast! Every morning, I would enjoy my coffee while taking in the beautiful views of the valley below and Ravello's various gardens.
Scala town itself is very quaint and has a very local vibe, letting you get a feel for how Italians truly live on the coast. Furthermore, it's a great base for various hikes in the surrounding mountains as well as for visiting Ravello without paying for the Ravello accommodation prices. In fact, Scala probably has some of the most affordable accommodation options in all of the Amalfi coast, making it truly worthwhile, as long as you are willing to give up proximity to the beaches (which can still be walked to in about an hour or driven to in 10-15 minutes).
During our time in Scala, we stayed at Ravello View, a beautiful hotel with a stunning view of the valley below and – you guessed it – Ravello. The rooms were very comfortable and Antonio and his family made us feel truly welcome. We even got to enjoy a homemade dinner that his family cooked for less than you would pay at most restaurants (and it was SO delicious)! 
Positano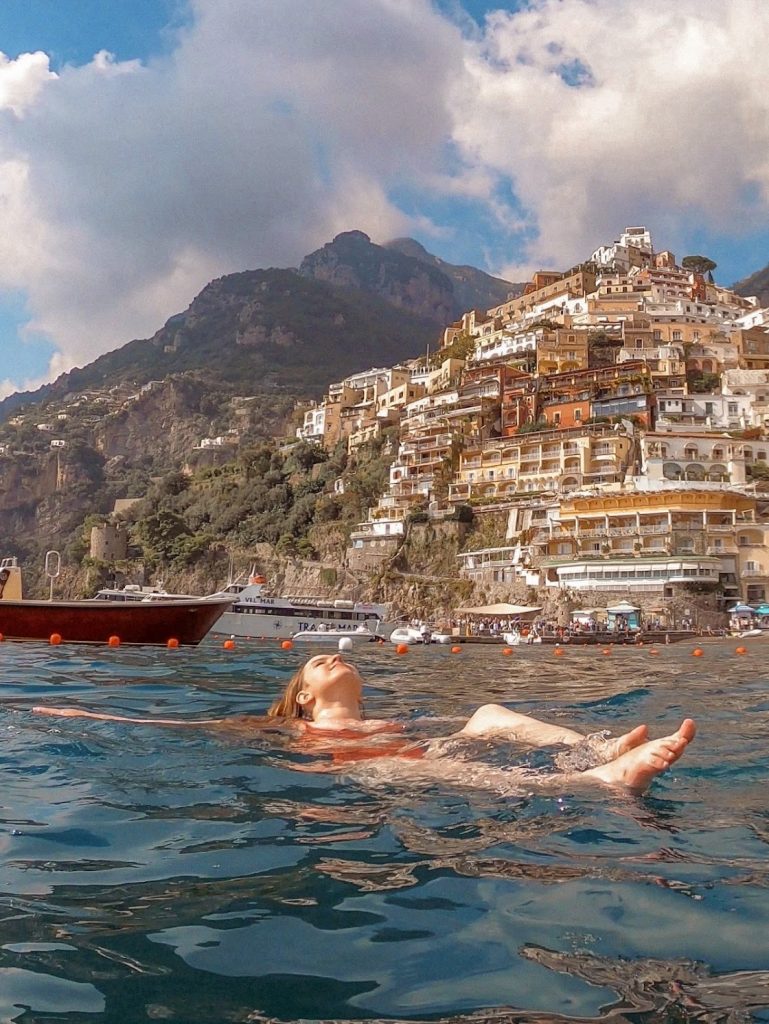 Positano is the most famous town on the Amalfi coast, and probably the most iconic. With a beautiful town placed right above the sea and some of the best views on the Amalfi coast, the town is a very popular base, and is definitely a MUST visit. While you could certainly just visit Positano from a different town, staying in Positano is definitely a common bucket list item.
If this is the case for you, just know that Positano is the most expensive location in the Amalfi coast. However, there are some things you can do to stay in Positano on a budget. Hotels right on the sea are extremely expensive, but you can find cheaper options if you search for hotels that are up the hill above the main Positano town. Staying at these hotels will involve having to walk down a lot of stairs and being further from the main attractions in Positano, but will be MUCH cheaper than hotels in town. Another option is to stay at the hostel in Positano. Notice I said THE hostel, because there is only one – meaning that you need to be sure to grab your room way ahead of time due to limited availability. If you can get a room in the hostel, however, it will be the most affordable stay you can find anywhere nearby, making it a great option for budget travelers. 
Visit the Amalfi Coast via Day Trips
Another great way to save money on an Amalfi coast trip is to visit the towns along the coast as part of a day trip (or multiple). If you want to look into this, I think that Naples and Sorrento are the best options for a base. I suggest taking a ferry, but you can also take a bus. Just keep in mind buses tend to fill up during peak season and you may have to wait in line for a while.
Naples
Naples is an iconic Italian city that I think is definitely worth visiting. While it doesn't have the best reputation, it is a uniquely beautiful city with a distinct culture that is definitely worth seeing. Additionally, it has, in my opinion, the BEST food in Italy – with so many amazing pizzas, pastas, sandwiches, and pastries to enjoy. Perhaps best of all, food and accommodation prices in Naples are among the lowest in all of Italy, making it a budget traveler's paradise. With hotels well under $100 and MASSIVE meals for under $10 (pizzas were less than 5 euro), Naples truly is a great base for an Italian trip. 
With tons of bus and ferry options from Naples to the Amalfi coast, you could definitely take one or multiple day trips to the coast easily and rather affordably. 
Sorrento
While Sorrento isn't as cheap as Naples, it's still far cheaper than most locations in the Amalfi Coast. Furthermore, Sorrento is a great base for a trip anyway, with its own quaint streets, delicious local eateries, and beautiful beaches justifying at least a few days' stay in the town. However, it also serves as a great base for visiting the Amalfi coast, being only 20 km driving distance away. There are numerous options for buses and ferries departing Sorrento that visit Amalfi, Positano, and other Amalfi Coast towns, making it a great potential base for your trip!
Saving Money on Accommodation
While picking the right location will be an important part of making sure you save money on your trip, there are other things you can do to help and make your trip more budget-friendly as well. For example, you may want to skip out on hotels and instead look up guesthouses, B&Bs, and hostels for more affordable accommodation. Booking.com will let you browse through many of those options and can offer some wonderful deals, although you'll likely get even better prices by booking with your accommodation directly. 
If you are staying for a longer period of time (more than 4 days, but the longer the better), then Airbnb has some great accommodation options as well. The longer that you stay at an Airbnb, the cheaper it is to stay per day, meaning that you can stay i≥n some Airbnbs for far cheaper than any hotel per night, enjoying a more private experience for a discounted price. 
Getting to The Amalfi Coast
Once you get to Italy, you will need to know how to get around on a budget. The closest airport to the Amalfi Coast is in Naples, so it will be VERY easy if you are based in Naples. If not, it still won't be too difficult to find your way to whichever base you use, and it doesn't need to be expensive to get there!
One thing you definitely want to avoid is paying for a taxi to the Amalfi Coast. Taxis are exorbitantly expensive and are not worth the investment, particularly if you are on a tight budget. The easiest, but most expensive, option to consider for getting to the coast is paying for a private transfer. This will be far more expensive than the other options, but provides more privacy and comfort than the following options, since you will have your own private car and won't have to worry about carrying luggage. For reference, a transfer from Sorrento to Praiano was around 110 Euros.
If you are looking to spend less, your best option is a ferry, train, or SITA Bus to the Amalfi Coast. The cost of each depends on where you are departing from, but the ferries will generally be the most expensive of the three options and the buses will be the cheapest. The ferries are generally faster and more comfortable for a higher price, while the bus rides are VERY cheap but can be quite uncomfortable and crowded, particularly if you have luggage. The train provides a middle ground, taking longer than the ferry but usually being noticeably cheaper as well, and providing more comfort than the bus ride. You should look into specific fares and departure times to find the options that best suit your needs and budget. 
Getting Around the Amalfi Coast
Once you are actually in the Amalfi Coast, you need to pay just as much attention to your transportation options to make sure you meet your budgetary needs. Taxis are even more expensive once you are in the Amalfi Coast towns – with taxi rides from one town to the other easily costing over 50 euros. 
Luckily, there are a plethora of options for getting around that are far cheaper. One of the best options is to use either the free public bus or the very cheap SITA buses that run throughout the Amalfi Coast. While these buses are crowded, they have bus stops in each town with easy-to-follow bus schedules posted, run frequently, and provide the cheapest transportation method possible. You can also just opt to walk, depending on your plans. We would often walk between the towns, taking the opportunity to really relish in the beautiful coastline and getting some exercise along the way. While this is possible, you have to make sure you have the time to do so, since you will be walking a good distance to get from one town to another. We walked from Praiano to Positano and back in one day, but it took around 1.5 hours each way to do so, making it MUCH more inconvenient than simply taking the bus. For both of these options, you will likely not have the flexibility to see every single town in one day, so keep that in mind if you are planning on a day trip. 
If you want more flexibility than walking or the public bus provides, there are affordable options for renting either a motorbike or a car. You will want to try and find rental options outside of the Amalfi Coast (many companies will deliver the car to you for a small fee), as these will be significantly cheaper than those that operate within the Amalfi Coast towns.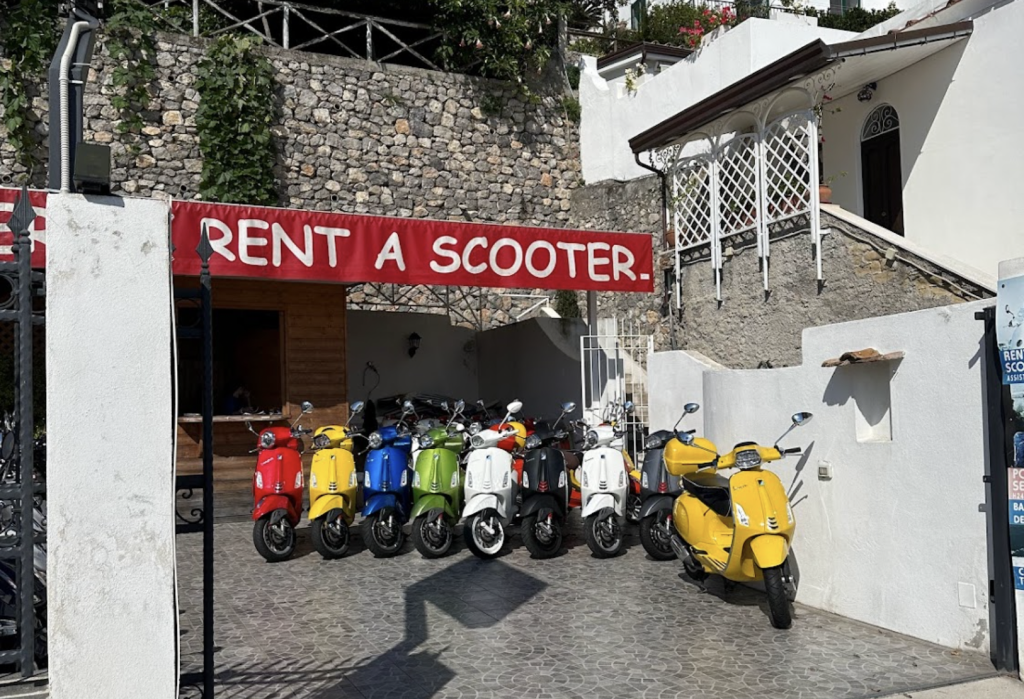 Motorbikes will be the cheaper option and will make navigating the tight roads in the Amalfi coast easier. However, I suggest only doing this option if you are confident in your ability to operate a motorbike. The roads in the Amalfi Coast can be very tight with little visibility around bends, and the local drivers tend to drive rather aggressively. During our trip, we heard stories of motorbike crashes and even saw one woman who had fallen off of her motorbike and had to be taken to the hospital for her injuries. If you are unsure how well you would handle a motorbike, I'd air on the side of caution and opt for a rental car or one of the other transport options.
Rental cars are more expensive than motorbikes, but will still be much cheaper than private transport or taxis and offer much more flexibility than the public transport options. We rented a small Fiat, which was delivered to our B&B for 50 euros and only cost us 32 euros a day! The rental car gave us so much flexibility and definitely made our trip more enjoyable! Just be sure to drive with care around the Amalfi coast and be careful when going around bends (especially if there are buses nearby) so you don't lose a mirror or damage your rental car. Parking is also pricey and limited in many areas, so be sure to plan ahead and get to your destination early to make sure you secure a spot.
Things to Do on a Budget
The Amalfi Coast has so many free and cheap things to do that it can easily be perfect for a budget traveler. Here are some of my top recommendations for affordable things to do in the Amalfi Coast!
Go to the Beach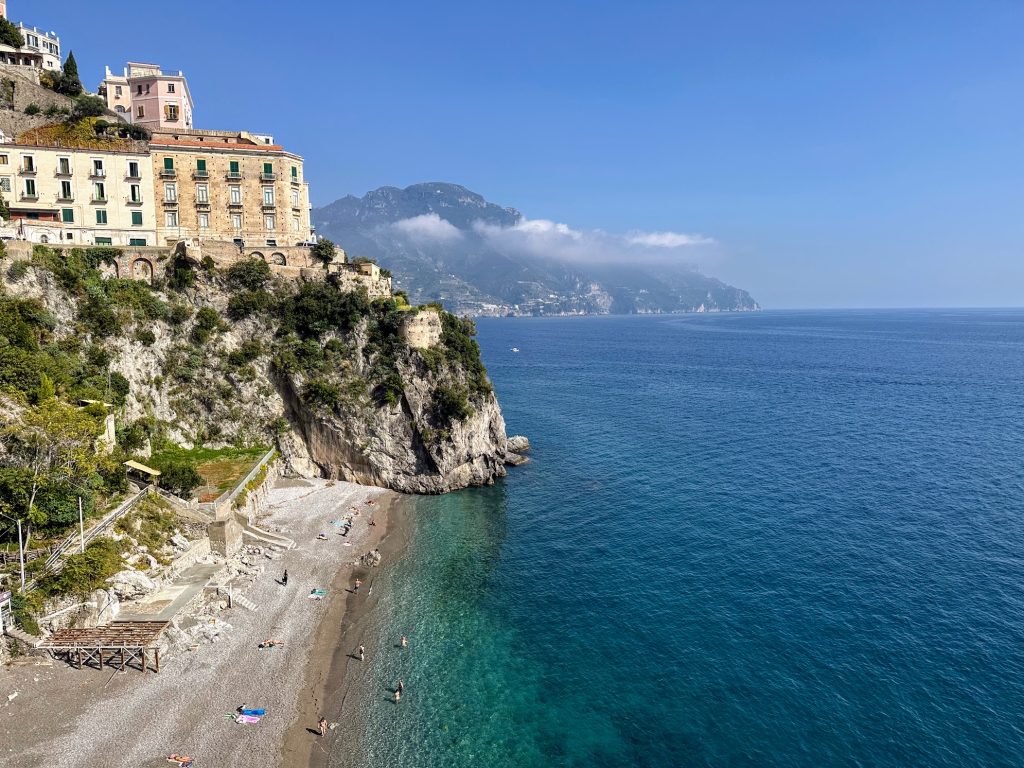 The Amalfi Coast has some of the best beaches in Italy and, outside of some of the privately owned beaches attached to resorts and hotels, they are completely free to enjoy! Many of the beaches will have sun chairs available, but the prices are very high (upwards of 35 euros per chair), so I think it's better to just bring a towel and set up on the beach for free!
My favorite beaches in the Amalfi coast were in Positano, Praiano, and Atrani. The beach in Positano was by far the most popular (and very crowded), but had some of the best views available and, since most people didn't seem to swim far out, was quiet if you spent your time in the water. Praiano's three beaches were absolutely lovely and less crowded, meaning you could get more beach and sea to yourself. Atrani, a small town right next to Amalfi town, had two beautiful beaches populated mostly by locals, perfect for both sunbathing and swimming!
Go For a Hike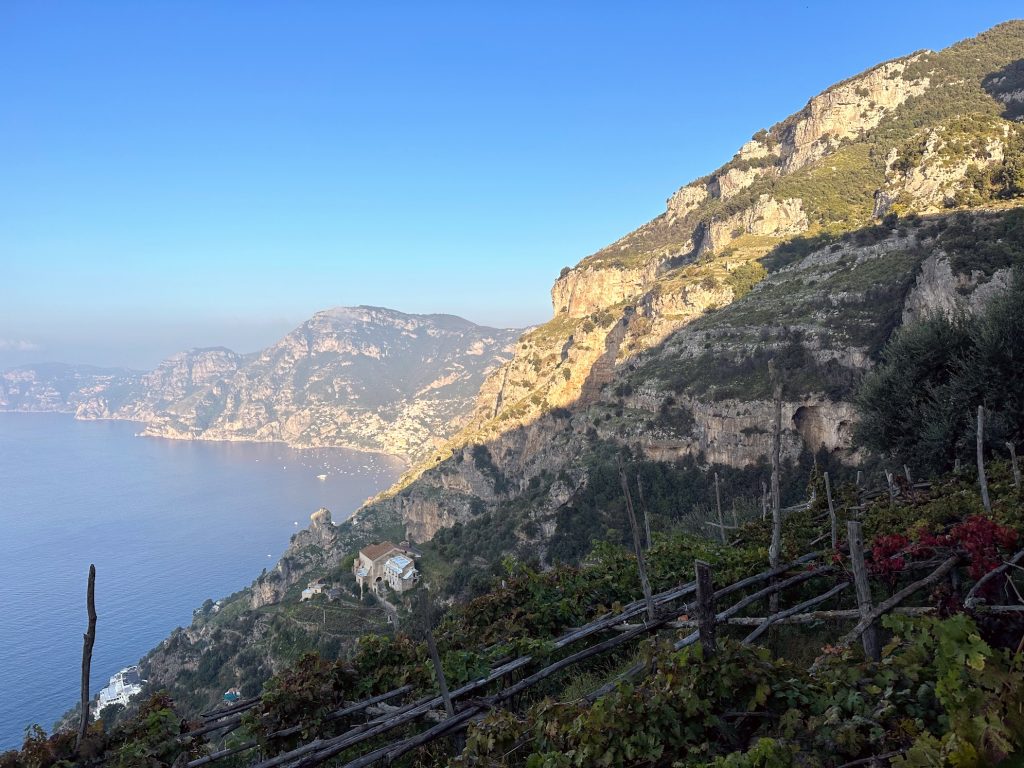 Since the Amalfi Coast is very mountainous, it has wonderful hiking opportunities free of charge! I will be suggesting two hikes, but there are so many more that you are really spoiled for choice. Note that there is little shade on most hikes in the Amalfi coast and trails can get very hot during the summer (as well as crowded) so it's best to try and get on the trails early in the morning. We generally left as soon as we finished breakfast, as close to sunrise as possible.
The most notable hike in the Amalfi coast is the famous Path of the Gods hike, which runs from Bomerano to Positano. The hike can be started from either of those two locations, as well as Praiano. Depending on where you start, the hike may be more or less difficult. Starting in Bomerano will be easiest, as you will be going downhill the whole way, while Positano will be uphill almost the entire time (and starts with 1700 stairs straight), making it more difficult. Perhaps most strenuous of all, Priano starts you in the middle of the two towns but immediately features 1900 steep steps before you get to the gradual downward hike to Positano.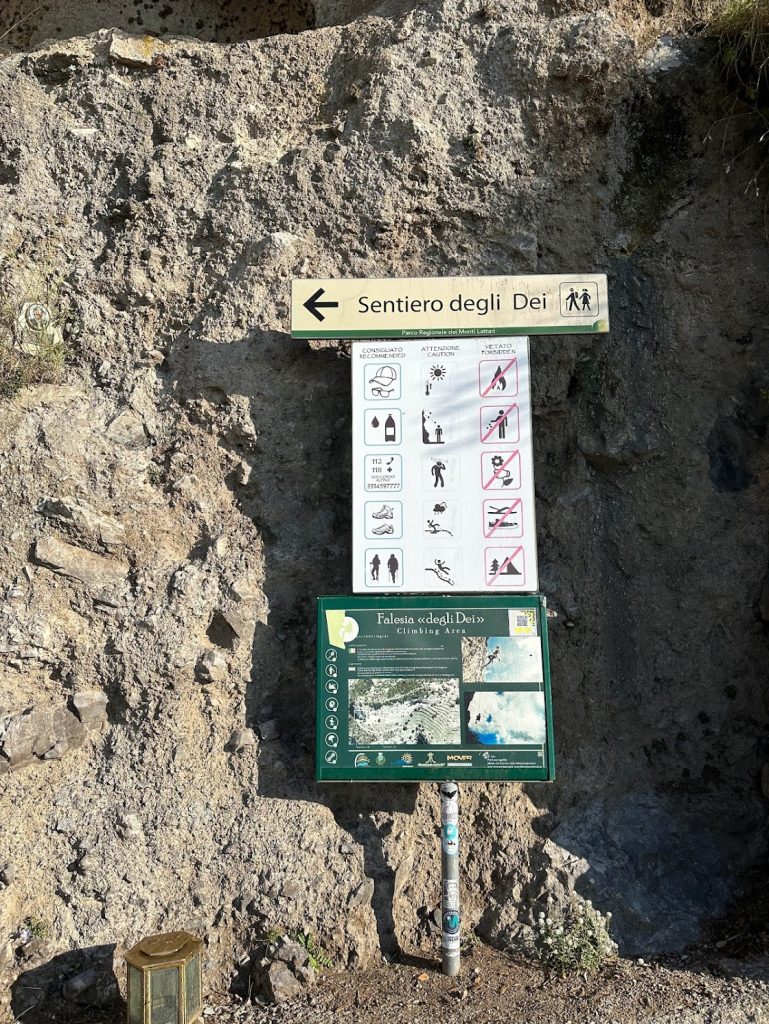 We started the hike in Praiano, doing the hike to Bomerano on one day and the hike to Positano on another. The stairs were absolutely exhausting, and I spent most of the first hour on both days gasping for air and forcing my burning legs to keep working my way up the mountain 😅. Once you reach the top of the long staircase, however, you can't remember how difficult it was because you are too distracted by the incredible views. 
Throughout the remainder of the hike, you have an unobstructed view down the sheer cliffs into the brilliant blue Mediterranean sea below you glittering in the bright sun. With views of various farms and towns throughout the hike, there is an ever-changing array of scenery, with every view as beautiful as the last. We saw fellow hikers, donkeys, horses, and farmers leading their sheep and goats along the trail during the walk. We even stopped off at a cute cafe along the trail, where we got delicious lemon granita and juice from a very friendly farmer, saw his truffle-hunting pigs, and took in the view from a rowboat far above the trail that he had attached to his stand. All in all, the hike was an absolutely wonderful and unique experience and is definitely a must-try for anyone who loves to hike!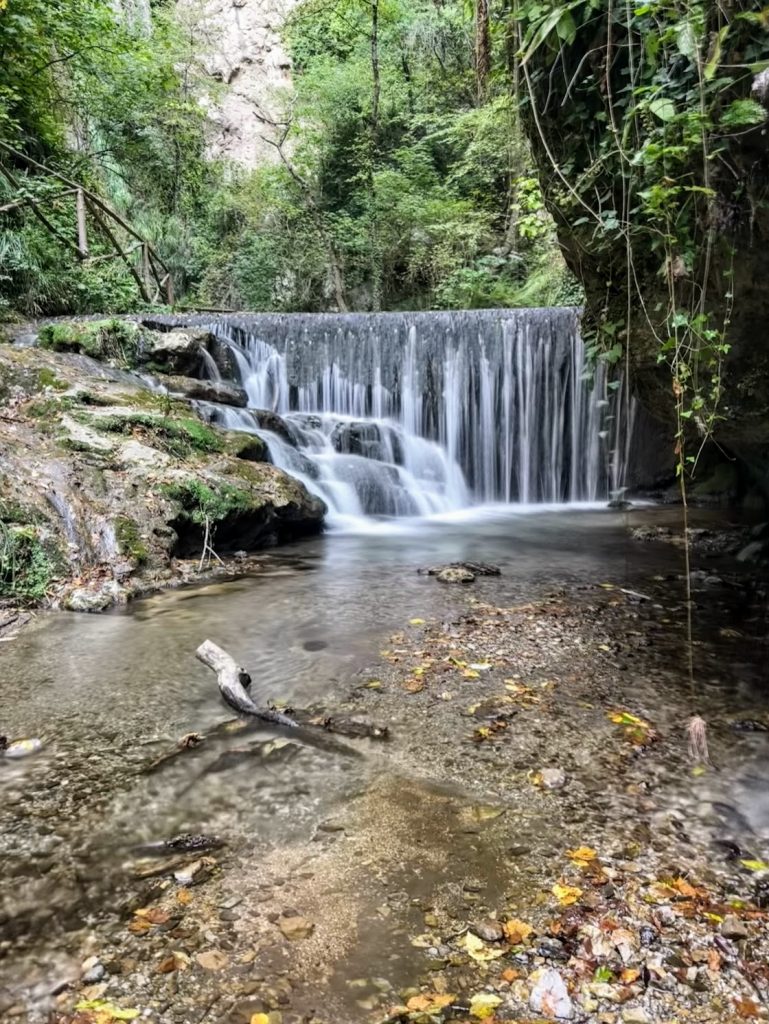 Another hike that I recommend is the hike to access the Valle De Ferriere. This enchanting location is 6 km from Amalfi town and very easily accessible from Scala. We left from Scala and the hike was not challenging, but very enjoyable. During the hike, you descend from the mountains above Amalfi or nestled around Scala and enter into an increasingly lush valley. You will pass by small farms and lemon groves, cross flowing streams, pass by beautiful waterfalls, and even walk through ancient water mills and ironworks. 
As you continue hiking, you'll notice the climate start to change as you enter into the Valle delle Ferriere, a magical stretch of land with its own microclimate. This stunning valley is cooler than the surrounding areas in the summer and warmer in the winter and features its own unique plant and animal life. At the end of the trail, there is an area that costs 5 euros to enter, with the money going toward preserving the natural region. The area features stunning waterfalls and flowing streams as well as a constant torrent of water raining from above as it travels down the fossilized moss-covered stone walls. You can also find unique forms of life, including carnivorous plants dating back to the prehistoric era! It truly feels like a completely different world and it is definitely the most unique experience I had in the Amalfi Coast, so I highly recommend trying it out! 
Sightseeing
The main attractions in each of the Amalfi Coast towns tend to be very affordable (or free) and are definitely the perfect way to spend your time! 
Positano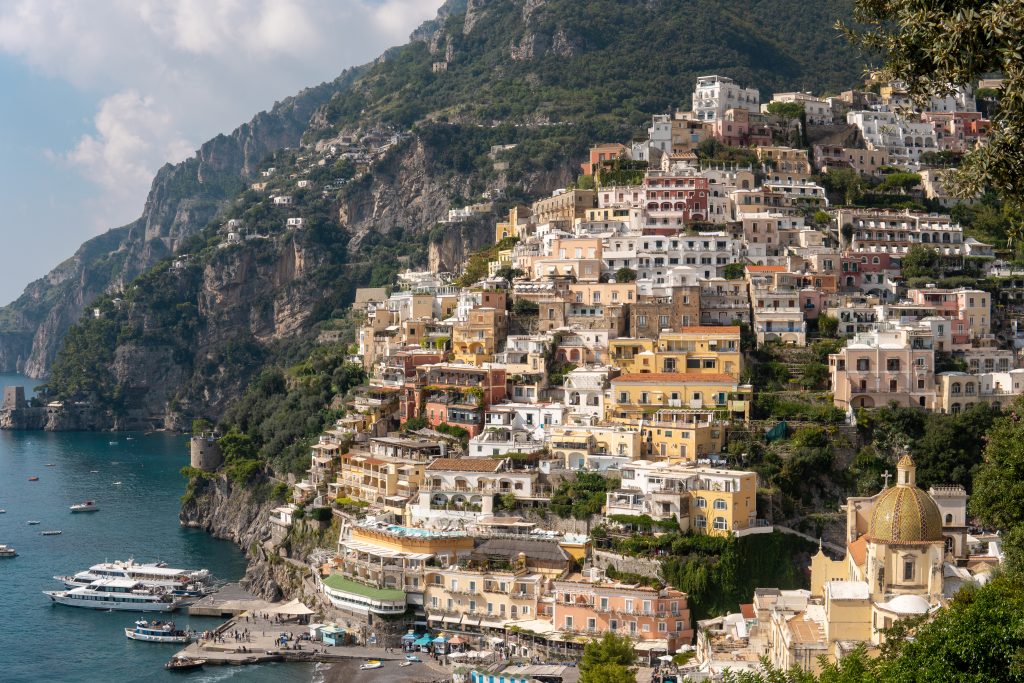 Sightseeing in Positano is pretty straightforward and mostly involves walking around the streets of the town, enjoying its beautiful architecture and the surrounding natural beauty. From higher up in the town, you will be able to enjoy the iconic view of Positano's cliffside houses and the beautiful sea underneath. 
As you work your way down closer to the beach area, you will enter a bustling shopping area with fashion vendors, local artists, ceramic stores, and food vendors that is truly a lot of fun to explore. If you enjoy window shopping, Positano is probably the best town in the Amalfi coast to check out, with all of the different vendors having the most interesting variety of products. 
From the shopping district, you enter the square of Positano's Chiesa di Santa Maria Assunta, which is free to enter and has some beautiful architecture. From there, either head to the beach or head up the hill to the opposite side of town where you can explore the less populated Positano alleyways and may even find some cute cats like the ones we spotted with their own private cat staircase!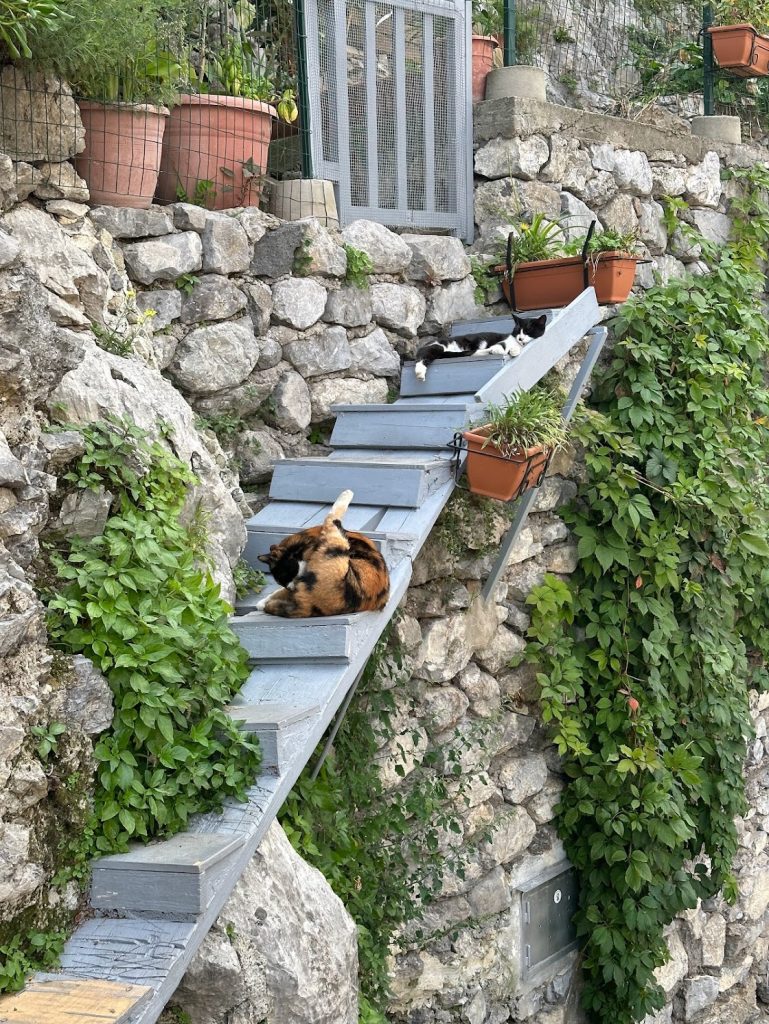 There is so much to explore in Positano that you can easily spend the day there while spending little to no money, so don't let your budget keep you from exploring the iconic town and having fun!
Amalfi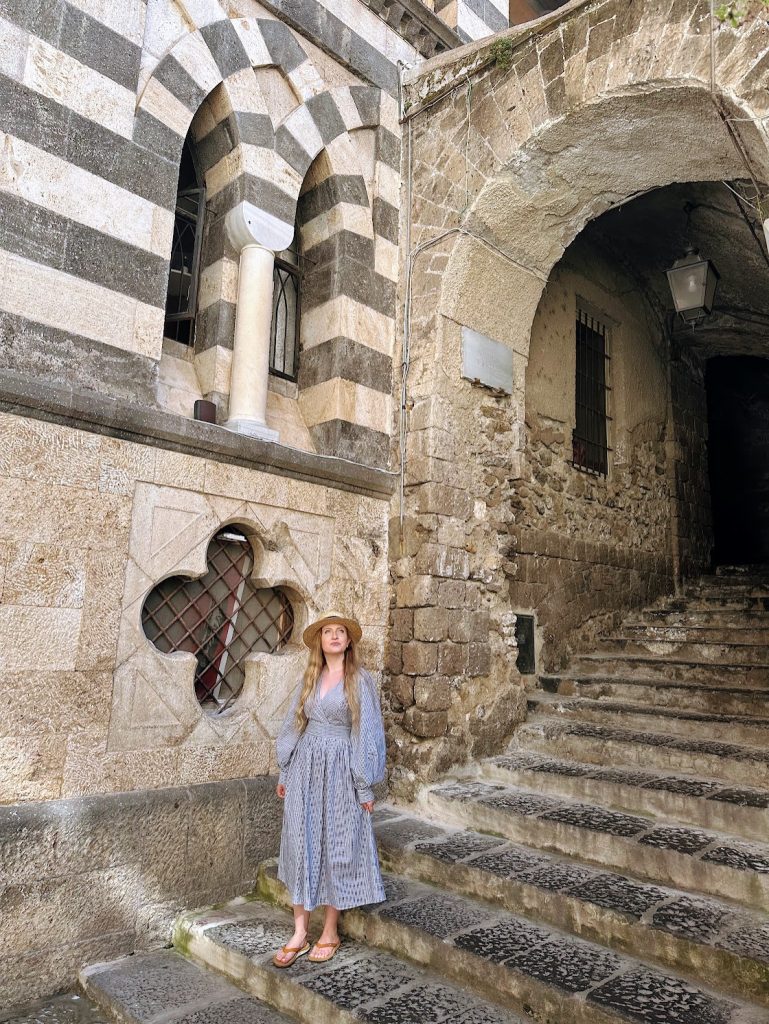 Amalfi town also has a ton of affordable activities and sightseeing opportunities. Like Positano, it's worth simply exploring the bustling streets of Amalfi, walking the perimeter of its beautiful coastline, and getting lost down its meandering alleyways, taking in the electrifying atmosphere as you wander. Despite being the most popular tourist destination on the Amalfi Coast, Amalfi also feels very lived in, and you'll spot cheerful locals heading home for their lunch break and local youth enjoying recess and excitedly yelling in Italian. While wandering the beautiful side streets, you can almost forget you are a tourist for a second as you get immersed in the daily lives of locals passing by. 
Once you've explored the streets, it's definitely worth paying a visit to Amalfi's iconic Piazza Dante, a beautiful town square with finely crafted fountains and various local vendors. Towering over the Piazza Dante is the Duomo di Amalfi, a beautifully adorned cathedral that is free to visit and definitely worth seeing. For only 3 euros, you can enter into the attached cloister and crypt, where you will receive an informative tour that's well worth the cost of admission! 
Once you've spent a good deal of time exploring Amalfi, I think that it's also worth exploring the neighboring town of Atrani, which can be reached on foot in 10 minutes or so. I mentioned Atrani earlier for its stunning beaches that are definitely worth visiting, but it also has iconic vistas and a beautiful town! Atrani is the smallest town on the Amalfi coast and has a uniquely quaint vibe to it. Unfortunately, when we visited Atrani there was a Denzel Washington movie (The Equalizer 3) being filmed in the town square, so we didn't get to explore it too much. This gave us an excuse to spend more time at the beach, but I definitely left feeling like I needed to come back to truly experience Atrani at some point in the future (so I highly recommend checking it out).
Ravello
Like all the towns on the Amalfi Coast, you could spend a whole day simply exploring the streets and enjoying the sights and sounds of life in Ravello. However, your trip to Ravello isn't truly complete unless you check out some of its world-renowned cliff-top gardens! 
I highly recommend Villa Rufolo, an iconic villa built in the 13th century with sprawling gardens and beautiful historical architecture. You can explore the diverse gardens, take in views of the sparkling sea and the Church of the Annunziata below, explore the towers rising high above the gardens, and even walk through a Moorish cloister within the ground of the esteemed villa. Entry to Villa Rufolo is only 7 Euros, and I think it's well worth it for that cost!
I also recommend the Villa Cimbrone Gardens, an even larger collection of gardens that stretches out across the vast cliff-top villa's property. There is a large variety of flowers, sculptures, decorations, and various walkways to explore throughout the gardens, including the iconic Terrazza dell'Infinito, lined with its marble busts, which offers stunning views of the Mediterranean below. Costing 10 euros, entry to the gardens provides good value, especially during peak season. However, depending on the time of year, it may not be worth the cost of admission, as there will be fewer flowers in bloom. When we went in mid-October there were already noticeably less plants in bloom, but it was still too early for the discounted shoulder season prices, so make sure to plan accordingly. 
Enjoy the Cuisine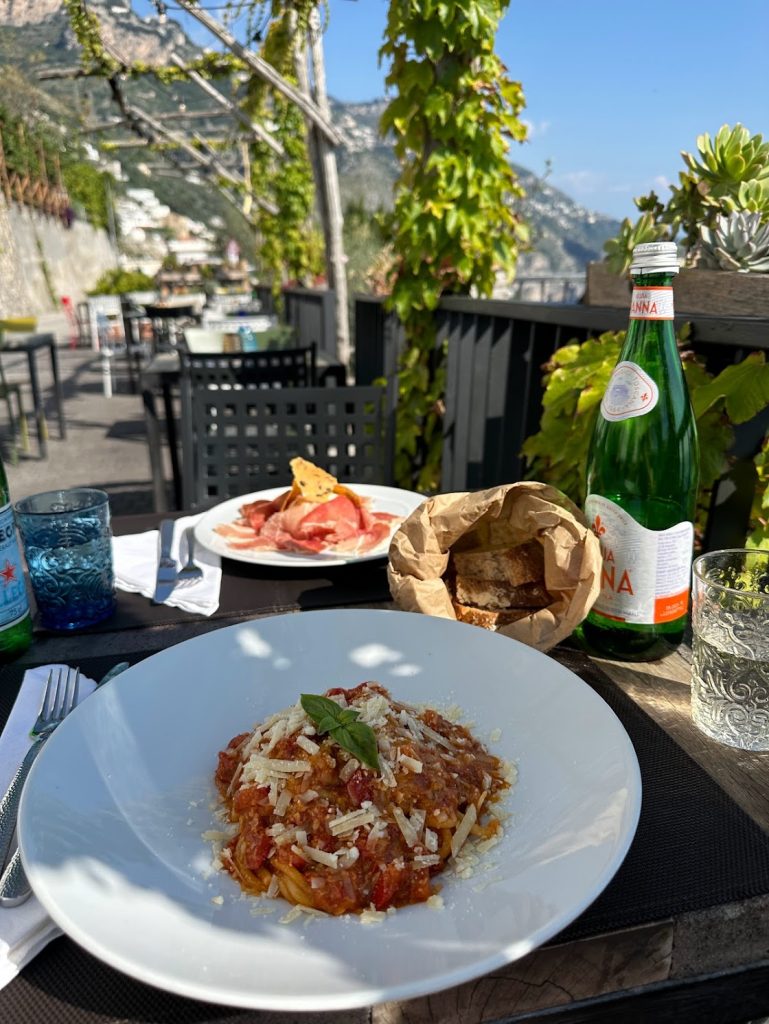 One of the best parts of any Italian vacation is getting to try the local delicacies and iconic Italian dishes, and the Amalfi coast is no different! You will find so many different options for some of the best food you've ever had in the Amalfi coast. However, like everything else in the area, food in the Amalfi Coast can be SOOOO expensive! Sometimes it is definitely worth the splurge to have a memorable or even once-in-a-lifetime meal, but saving money on food costs can often be necessary as well. I will provide some recommendations for food to try and help save some money while eating in some of the Amalfi Coast towns.
In Positano, it can unfortunately be extremely difficult to find an affordable meal. However, while not the cheapest option in the world, La Galli Bistrot in Positano provides great food and a stunning view of the iconic clifftop Positano houses for a reasonable price. One of my biggest tips for saving money on food in Positano is to try and shop at the local markets or grocery stores. For example, while you might pay over 10 euros for one of the iconic lemon sorbets in a lemon from a stand, you can get one from the grocery store for only a few euros (and it's just as cute and delicious once you take it out of the wrapper).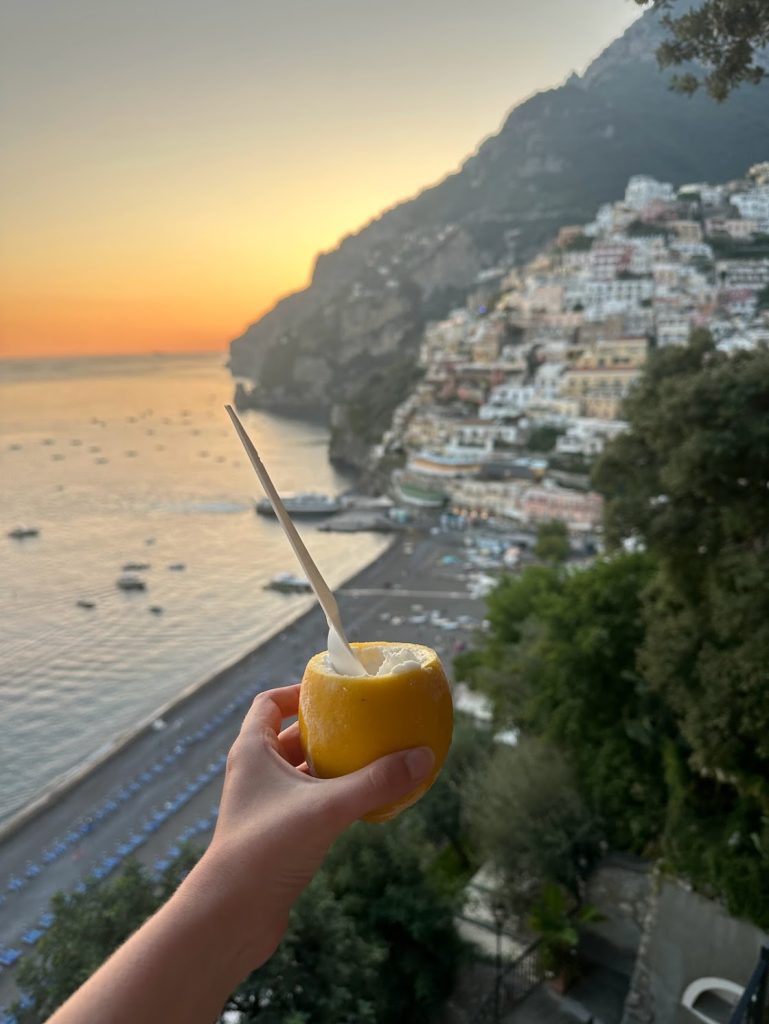 Unfortunately, I had no luck finding a cheap restaurant in Ravello, and you are probably best off shopping at a local grocery store or going to nearby Scala if you want to eat on a budget during your visit there. If you shop at a local market, you can easily get supplies for delicious sandwiches, including fresh bread, meats, and cheeses for under 5 euros, so it really isn't a bad option! 
Amalfi town has more affordable options than Positano or Ravello, luckily. I recommend La Bottega dei Ferrari, a very affordable butcher/sandwich shop with an extremely local vibe and absolutely delicious food. I also recommend La Rua Pizze e Delizie, a restaurant with fast but good service and pizzas for only 5 euros (practically a steal compared to normal Amalfi coast prices). There are also many other affordable options that you can find by researching local eateries in Amalfi.
Lastly, I spent most of my time in Praiano and found it to have some delicious, yet affordable options for food. My favorite budget option was definitely Che Bontà, a reasonably priced eatery with a large variety of options that were all delicious! We ate in person and ordered takeaway from this restaurant at least half a dozen times and were always so satisfied with our meals, while also not having to spend too much. Carica Bar is also an affordable option for coffee and breakfast. Attached to the local Praiano gym, you can get delicious coffee and smoothies here for cheaper than most nearby restaurants, and the staff is very friendly! 
Conclusion
These have been my top tips for visiting the Amalfi coast on a budget, and I hope they have been helpful. The Amalfi Coast is an iconic destination and definitely a bucket list-worthy vacation, and with the proper planning, especially for accommodation, transportation, timing, and activities, you can have a memorable trip without having to overspend on your budget!