All About Norway's Bergen Railway, The Flåm Railway, and Tips For Having a Great stay in Bergen.
When I went to Norway, I knew one thing that I absolutely wanted to do: To go on a scenic train ride. I've heard so much about how incredibly scenic the railways are in Norway, and I wanted to see as much of the Norwegian landscape as possible during my 6 night stay.
I knew I had to make the most of my trip. 6 days isn't much to see a lot of Norway, so I wanted to make sure I saw some of the most breathtaking scenery that Norway is so famous for.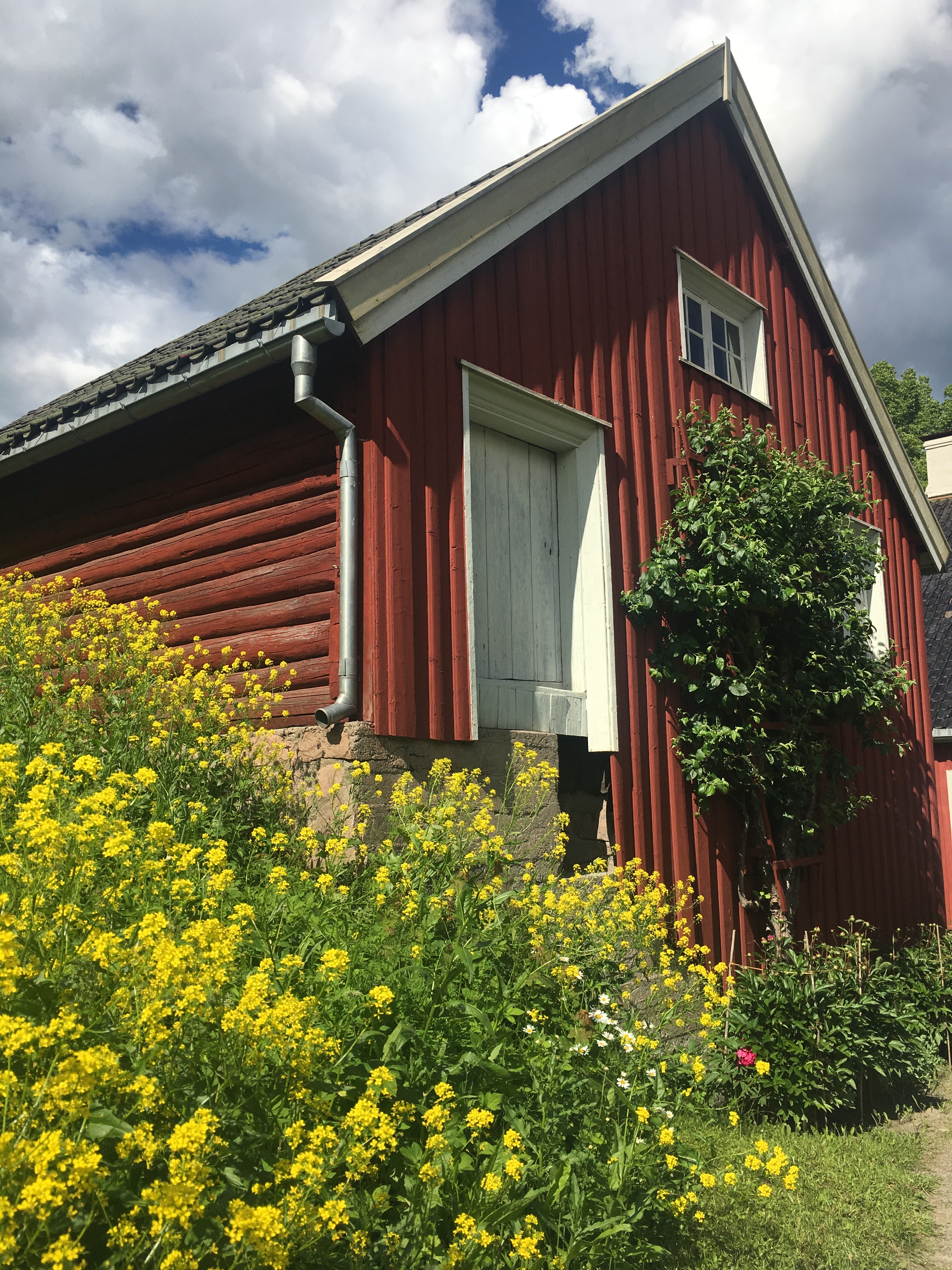 I flew into Oslo, and stayed there for 2 nights- just enough to see some of the best museums. I hadn't booked accommodations for the rest of my nights in Norway, because I wanted to do some research and ask some locals where they recommend I go next.
Bergen kept coming up.
Bergen is Norway's second largest city, located about 7 hours west of Oslo. I was reluctant to go here at first, as I wanted to see more of Norway's natural side; no more industrial cities for me! As I started to research Bergen, I stumbled upon a lot of articles and blog posts about the Bergen Railway.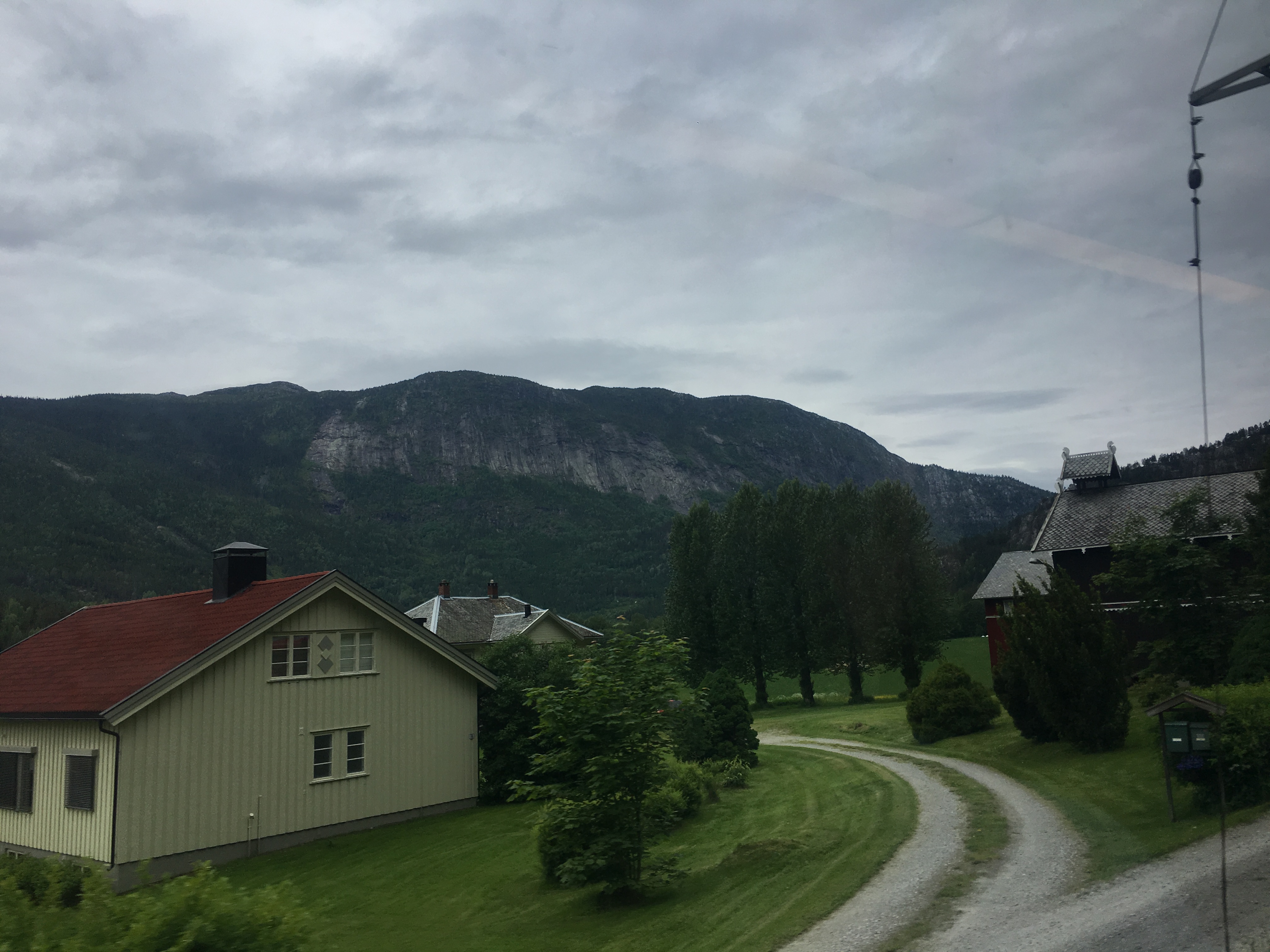 The Bergen Railway runs 306 miles from Oslo to Bergen. It makes a lot of stops along the way, so if 7 hour train rides aren't your thing, you can get off at some of the amazing stops (Flam and Voss are popular train stops). However, I recommend staying on the train for the entire duration, as the views are absolutely stunning. I was actually a little disappointed when the train neared Bergen because I was enjoying the ride so much, I didn't want it to end! So don't think of this long train ride as a wasted travel day; its part of your Norway adventure!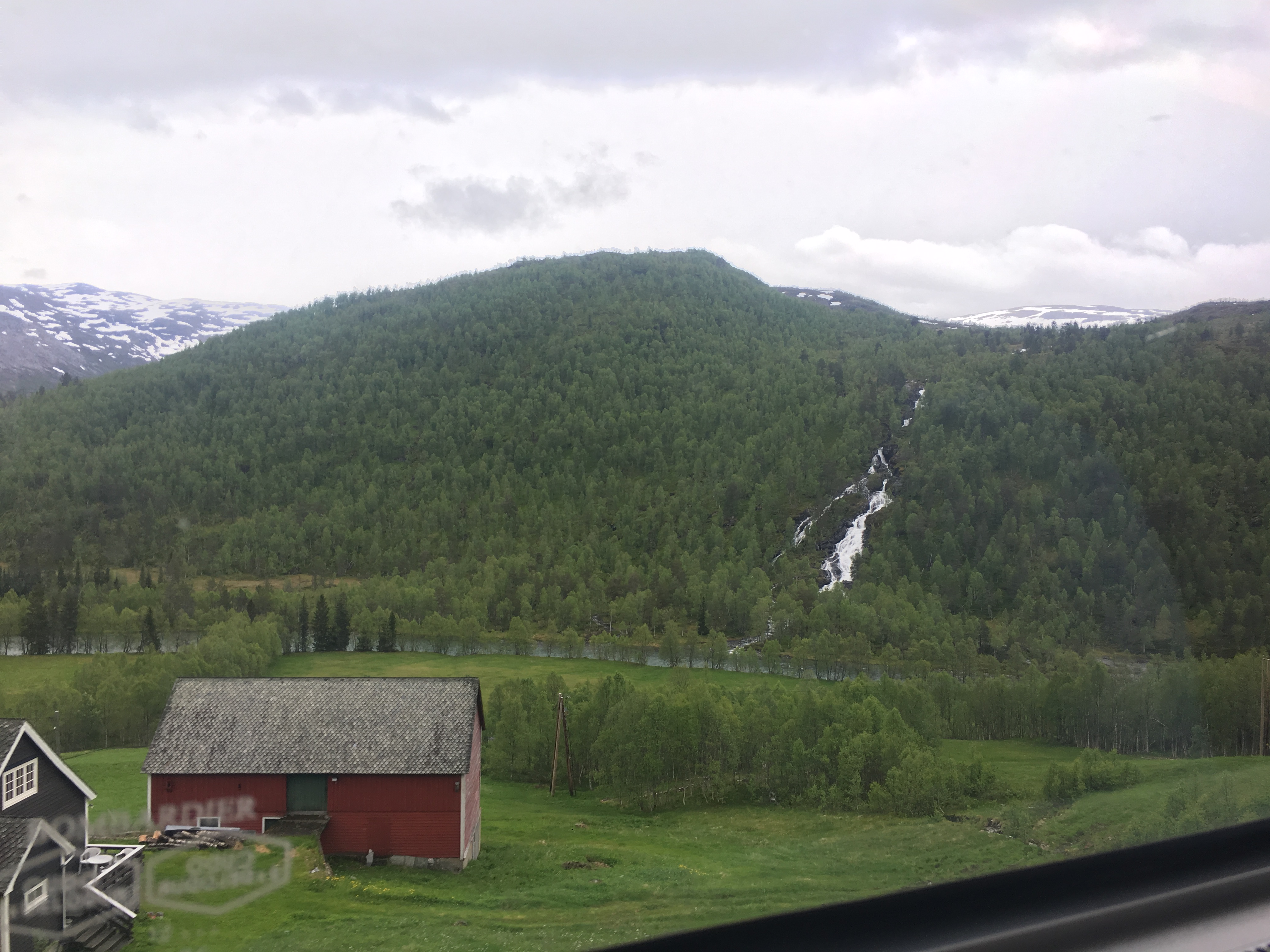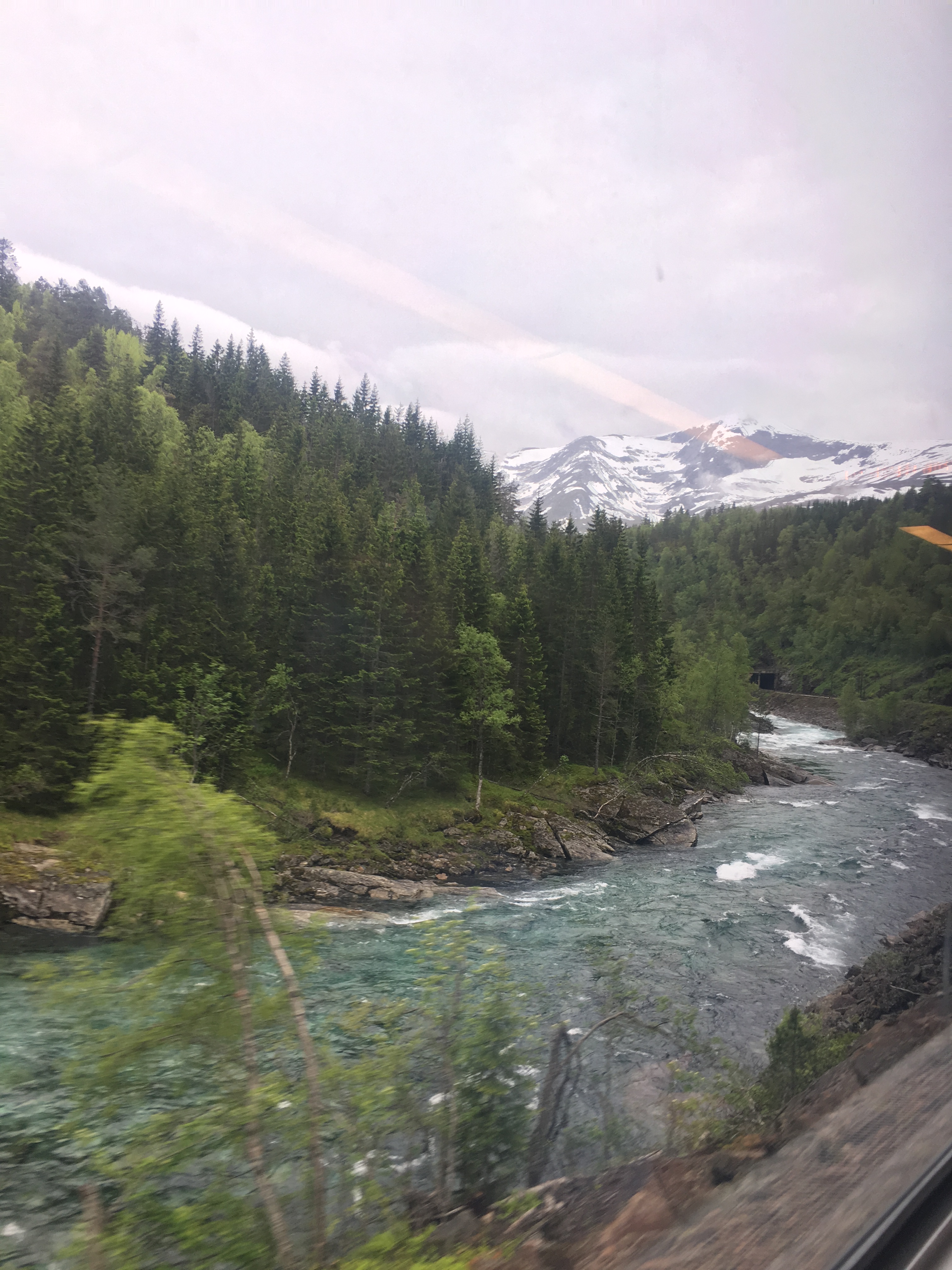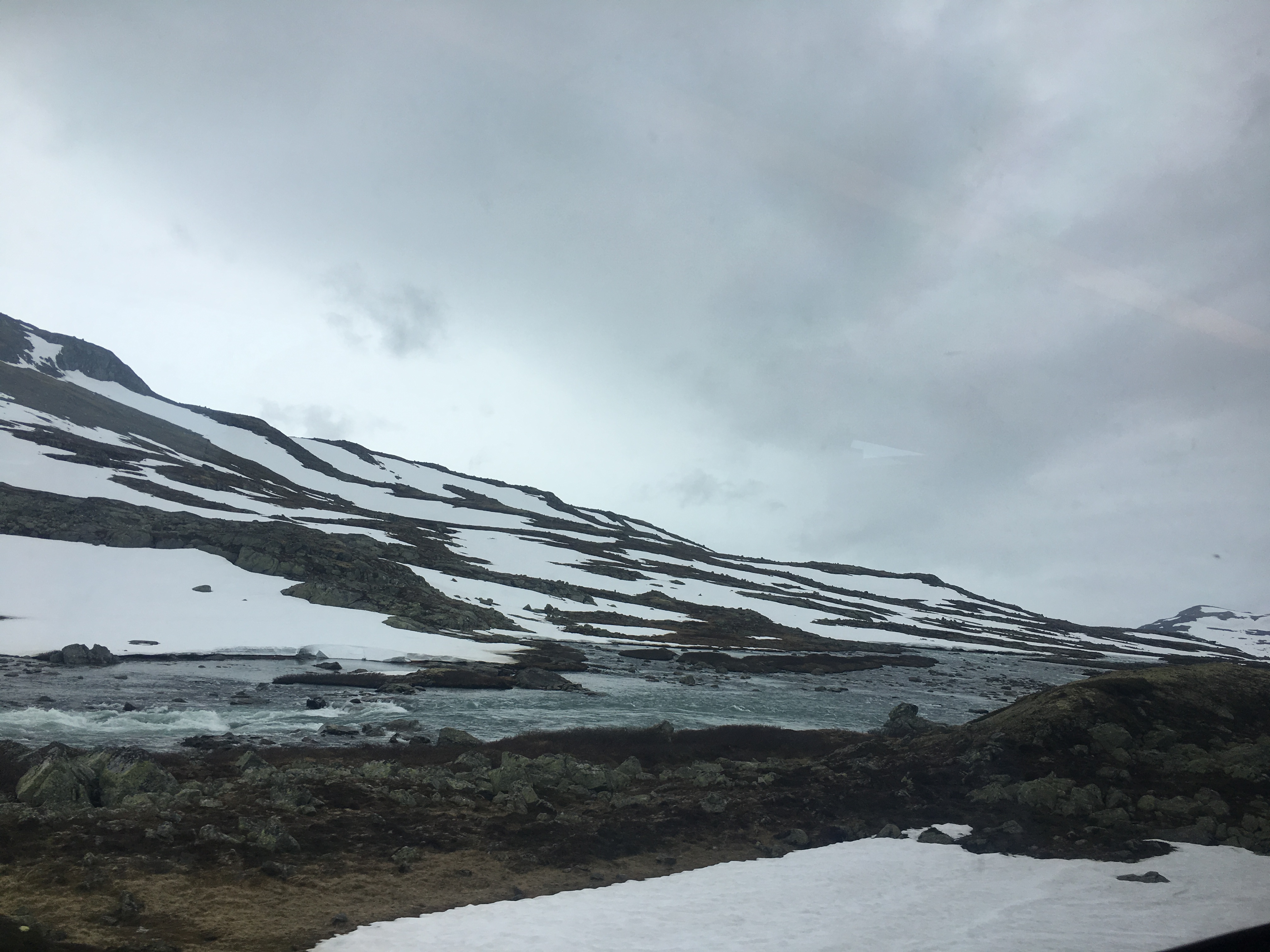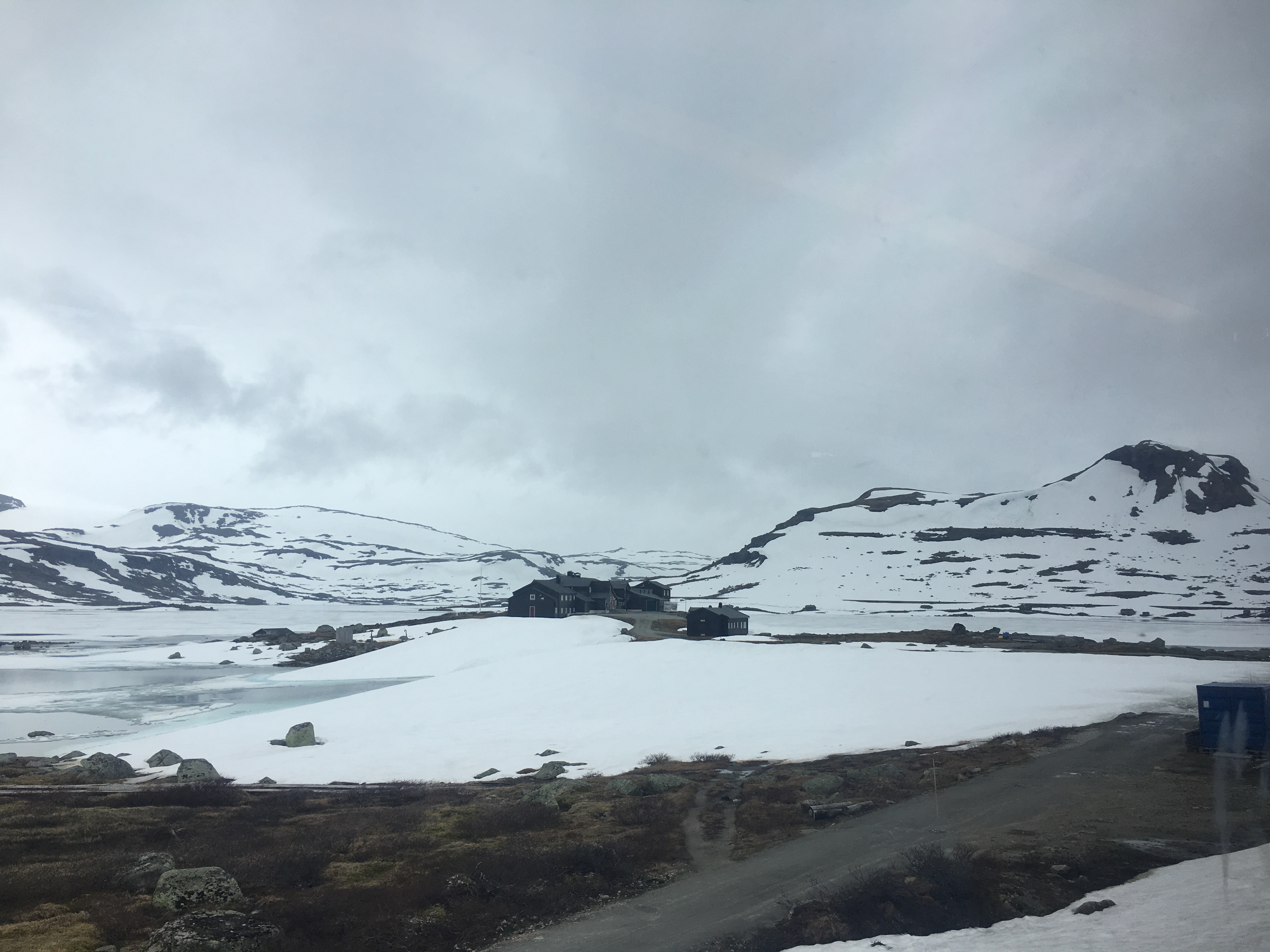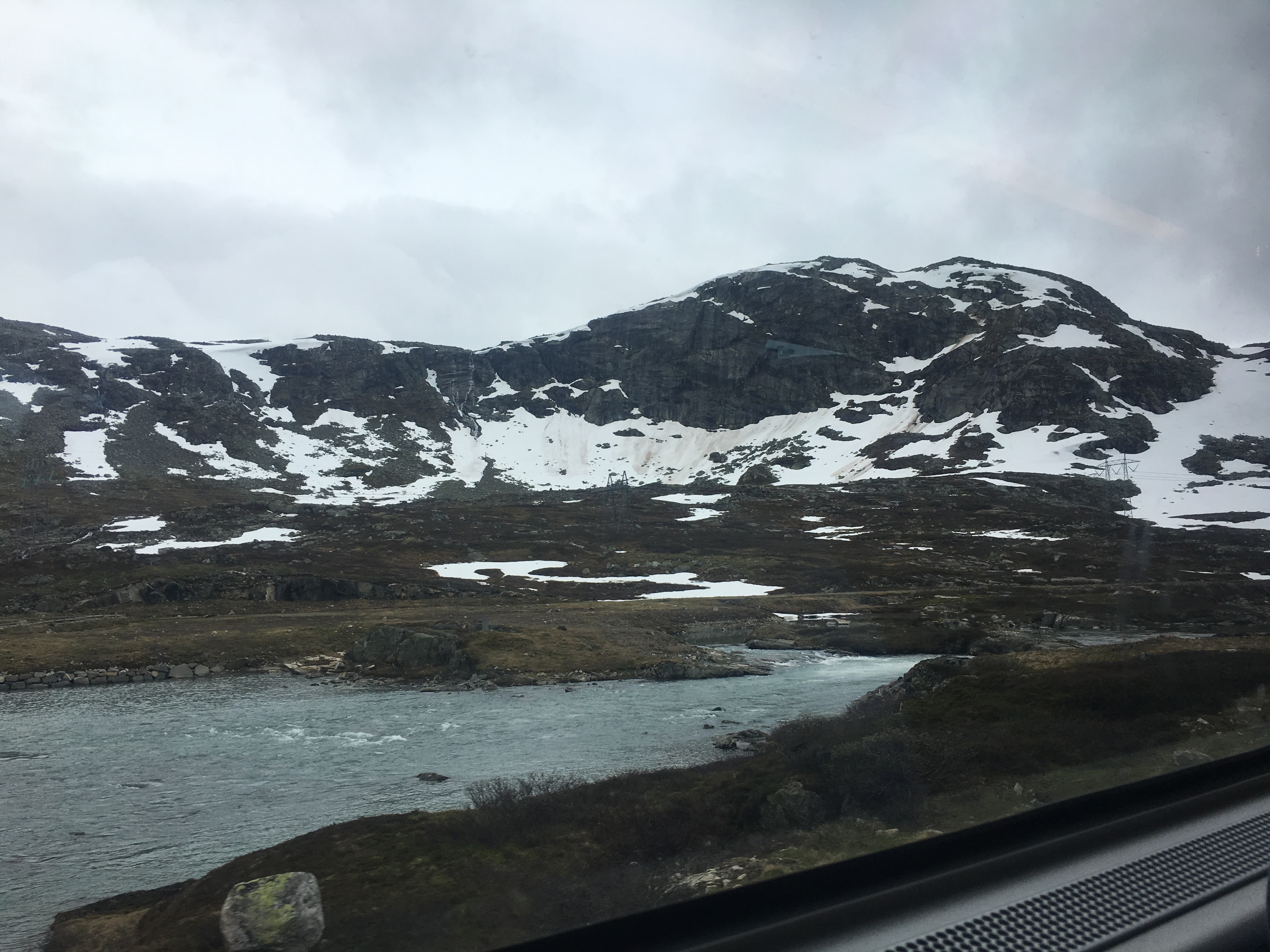 I took the 8:35 A.M. train from Oslo to Bergen, and arrived at Bergen around 3:45 P.M. I recommend taking the morning train, so you still have time to explore a little around Bergen when you get there. I stayed in a beautiful Air B&B in Paradis, which is a nice neighborhood about a 20 minute light rail ride from the city center. I recommend staying in one of the neighborhoods outside of the center, to save money. Seriously- Bergen is expensive. I saved a lot of money by staying outside of the center. I stayed in a renovated attic in a Norwegian family's home, and had beautiful, peaceful views of mountains and lakes. For 47 US dollars a night, that is the price of an 8-bed hostel at some places in Norway. Here is the timetable for the trains leaving from Oslo to Bergen. You can also get from Bergen to Oslo using the same line, and get the train at the Bergen station.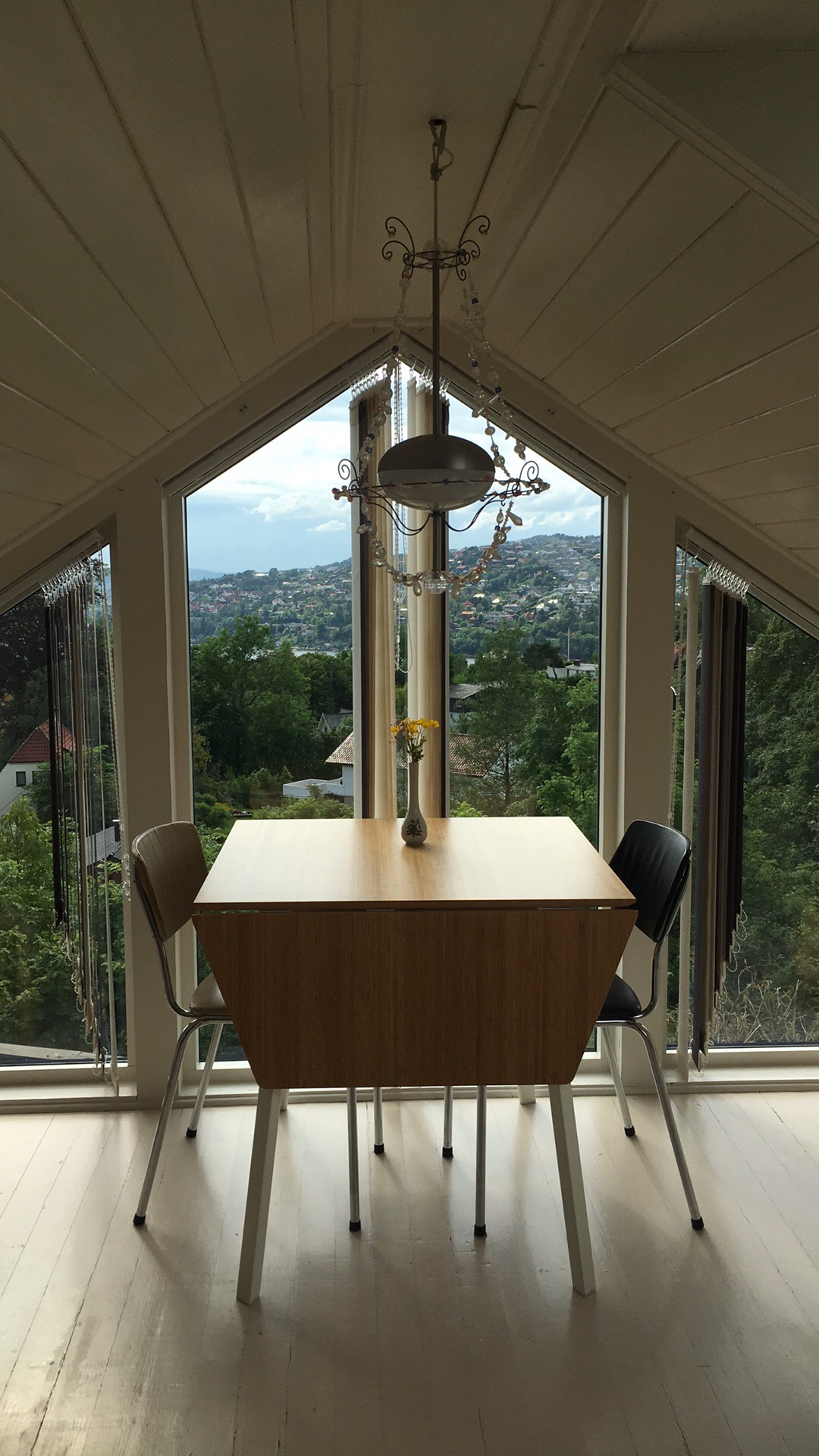 ***Click Here to get $40 off your next air b&b stay!***
Here's a little history about the Bergen Railway…
The Bergen Railway opened in 1883, and originally build to connect Voss to Bergen. However, in 1909 the railway expanded all the way to Oslo, which is still used daily to this day.
Prices & how to get on the Bergen Railway
If they are available, Pay an extra 8 US Dollars for first class seats. It will be worth it for the 7 hour journey. My credit card would not let me purchase the rail tickets online (a problem that a lot of American tourists have in Norway), so I had to go to the Oslo Sentrum Station to purchase the ticket in person. You can purchase tickets before your trip here: https://www.nsb.no/en/purchase 
Prices will vary, I spent around 90 US dollars on a one way trip from Oslo to Bergen. I purchased only one day in advanced, and I've heard that if you book it far enough before your trip it can cost as little as 30 US dollars.
Here are all of the stations that are connected to the Bergen Railway:
Oslo S
Sandvika station
Lysaker station
Asker station
Drammen station
Hokksund station
Vikersund station
Hønefoss station
Flå station
Nesbyen station
Gol station
Ål station
Geilo station
Ustaoset station
Haugastøl station
Finse station (the highest, and coldest, stop)
Hallingskeid
Myrdal (connection with the Flåm Railway)
Voss station (Best stop for outdoor adventure lovers)
Dale station
Arna station
Bergen station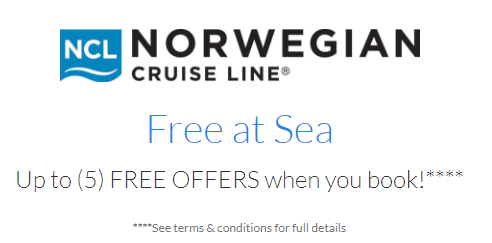 The Bergen Railway VS The Flåm Railway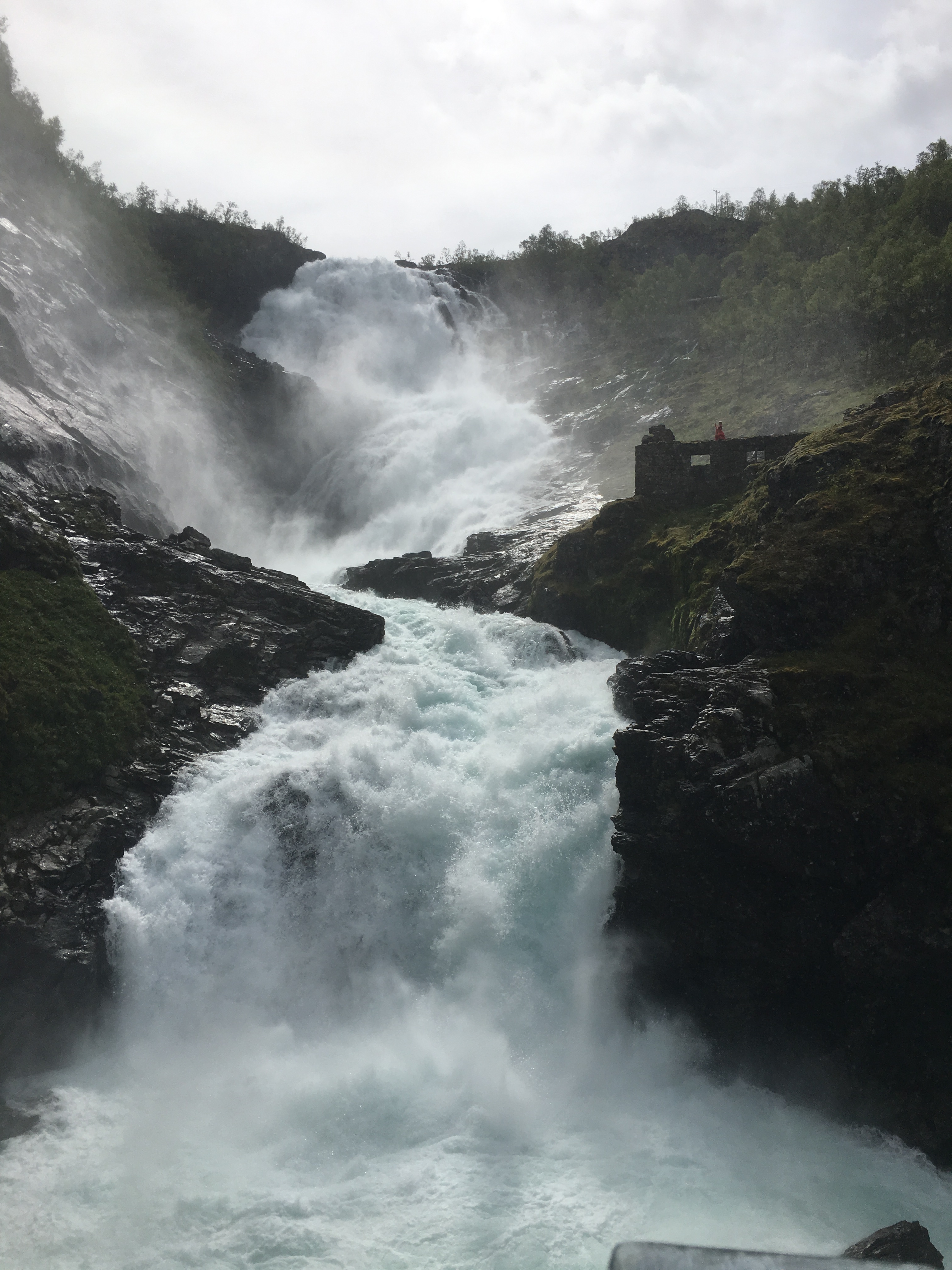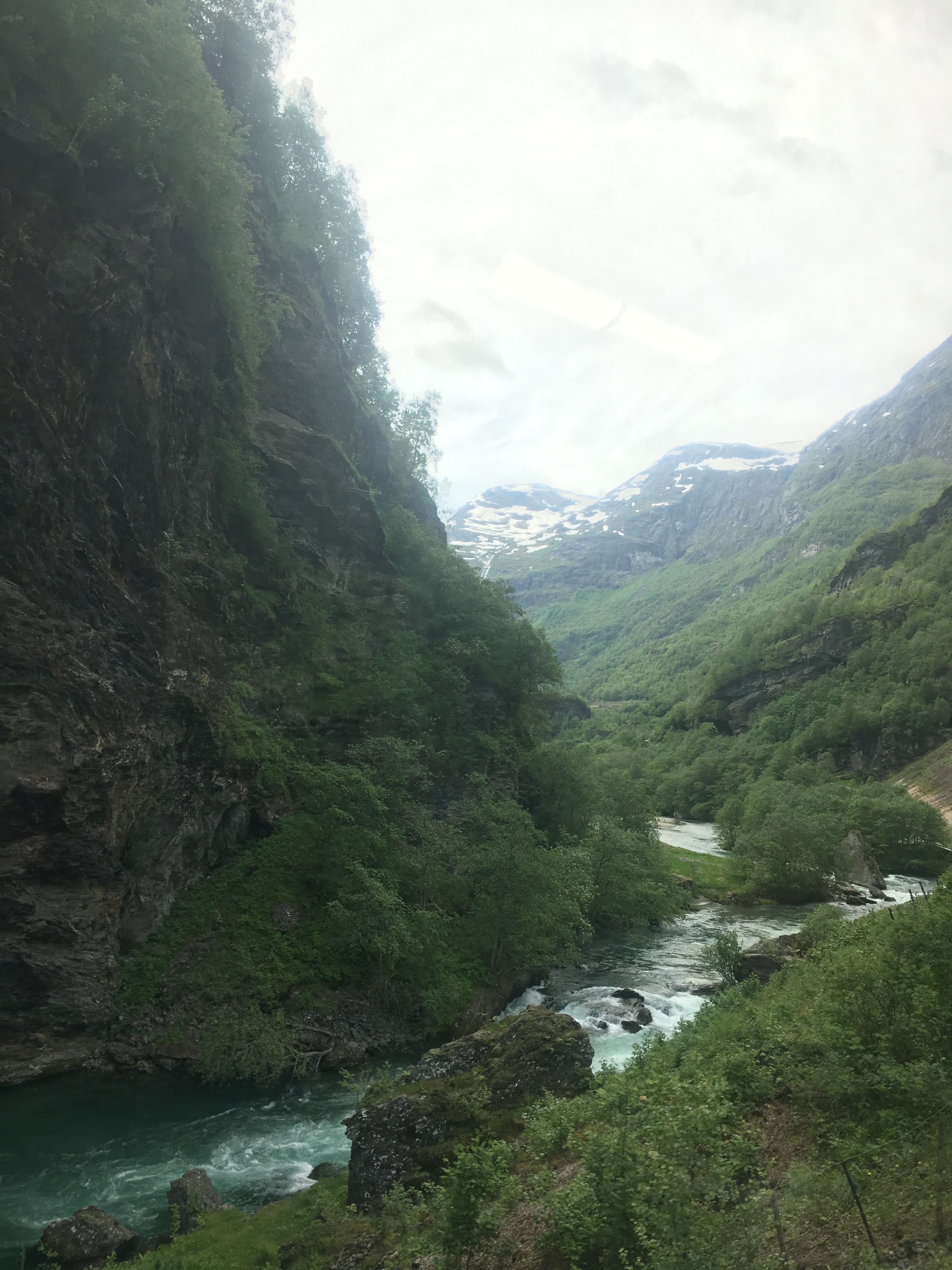 Both of these railways are considered to be Norway's best. However, I heard that the  Flåm Railway was even more amazing then the Bergen Railway, so I booked a ticket to see for myself which was better!
They are both incredible, however the Flåm Railway was much shorter than the Bergen Railway. Like, when the train arrived to Flåm , I was left thinking, "that's it?". Now, the Flåm railway truly is beautiful, and I recommend it 100%. However, I didn't think the scenery compared to that of the Bergen rail. The Bergen rout showed much more of Norway's diverse scenery, especially the snowy mountain tops. On the Bergen Railway, you pass by fjords, farms, waterfalls, rivers, lakes, and trucks through snowy mountain tops. The Flåm railway explores more of Norway's lush mountainscapes. However, one really neat stop along the Flåm railway is at the beautiful Kjosfossen waterfall. Everyone gets off at this stop, and a Norwegian "fairy" woman appears, and dances to Nordic music. Really interesting!
Tips for visiting Bergen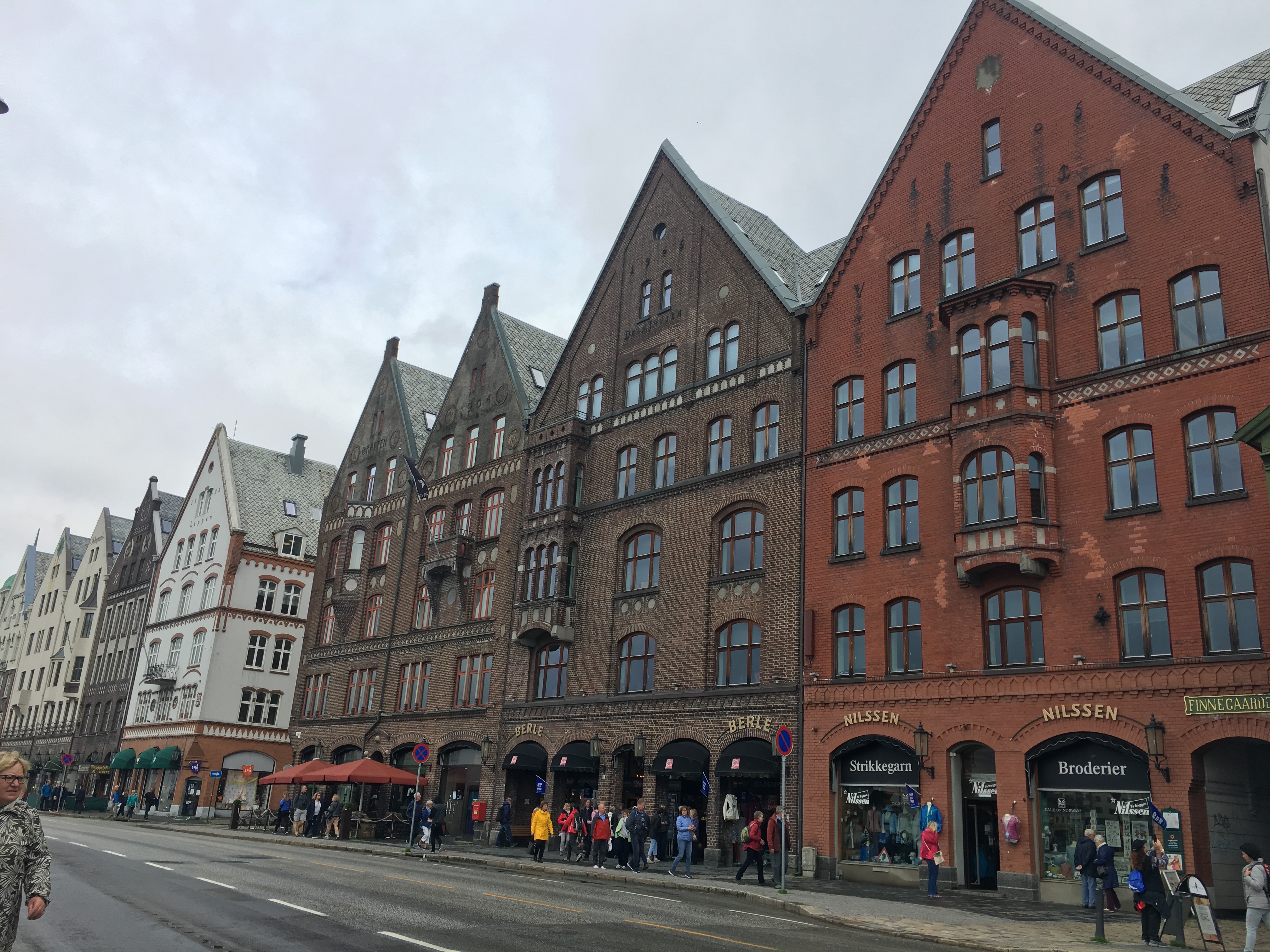 Most likely, it will RAIN. After all, Bergen is the rainy capital of the world. So come prepared, bring some waterproof shoes (ideally hiking boots), a raincoat, umbrella, etc.
Pack layers! I went in mid June, and I found myself wearing a jacket and leggings most of the time. Especially bring layers if you plan on hiking or taking trams up the mountain
Don't drink. Bergen is already super expensive, and the alcohol is no exception. I paid 8 US dollars for a glass of BOXED wine. Ugh. Most glasses of wine are 10-11 US dollars EACH. Not worth it. Drink the tap water.
Splurge on a Fjord tour! Please, do not miss this. You don't have to do the whole "Norway in a Nutshell" ordeal. Just book a boat trip through your fjord of choice and it will cost about 40 to 50 US dollars.
Get groceries, and cook, if you have access to a kitchen. Restaurants, like everything else in Bergen, are really expensive, so you'll be better off getting a few groceries. I went to the KIWI grocery store, which had reasonable prices. There are several in Bergen.
Stay outside of the Bergen city center; some of the Air B&Bs are nicer than hotels, and are super easy to get to the city center from.
Explore the old city, go shopping for Norwegian nic-nacs, and watch out for trolls! 😉

I found one!